Bahao (بہاؤ) is an exceptional Urdu novel written by celebrated novelist Mustansir Hussain Tarar. It is a novel with the status of a classic in Urdu literature – and is arguably amongst tarar's most notable works.
Related: Mustansar Hussain Tararr All Books
Baho Novel Summary and Review.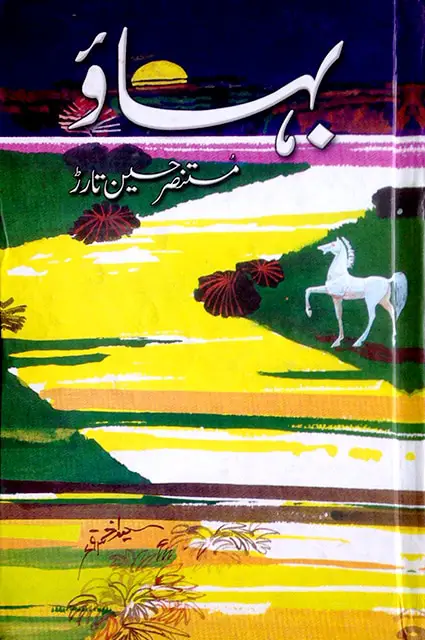 This novel is written on the theme of Indus Valley Civilization. The writer has brought an ancient civilization before us with the power of his robust imagination. He describes the extinction and drying up of an ancient river, the Saraswati. The river gradually dries up so much that life becomes stagnant – and water, which is an essential element of life, disappears. Many animals die from this catastrophe, and some disappear from the world forever. But man is the only animal that survives. The exciting thing about this novel is that man is a strange creature that manages to survive even after all these accidents and catastrophes.
The story wonderfully narrates the culture, way of life, livelihood, and difficulties of hundreds of years ago. The people who enjoy every convenience of today's luxurious life will realize how difficult, dangerous, and deprived the people of a thousand years ago were. The bare necessities of that era were only grain and water, for which they worked their heart out. We read in this novel about how the people of that time were full of tolerance, brotherhood and had a sense of responsibility.
Tararr must have done a lot of research before writing, which is evident in this novel. Despite belonging to a different age, the characters are written so accurately that they feel so real. The scenes are written with such a strong imagination that the readers feel like living and breathing in that era.
In summary, Bahao is the recreation of Indus valley civilization and explores human endurance, survival, and complex relationships. It is not a typical Pakistani novel with romance and family tragedies. Instead, it is a serious literary novel. If you love reading classic Urdu literature, this is the novel for you.
Download Bahao Novel By Mustansar Hussain Tararr in PDF
You can read this novel online – or download the complete Bahao novel by Mustansar Hussain Tararr in pdf for offline reading. Please follow the below links to read online or download this book.
Please Note: The links below are only for viewing, educational, and research purposes. We urge you to please purchase the book to support the publisher and the writer.