Pyar ka pehla shehar (پیار کا پہلا شہر) is amongst the widely read and critically acclaimed Urdu novels. It's written by Mustansar Hussain Tararr and acknowledged by many to be one of his most exceptional works. The first edition of this novel got published in 1974. But, even after so many years of its first publication, it is still being loved by Urdu readers.
Pyar ka pehla shehar novel summary and review.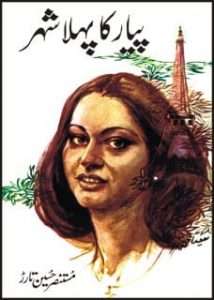 "Pyar ka pehla shehar" is a story of pure and innocent love. It is a story that makes you believe that everybody can fall in love. It has no boundaries of physical appearance or cultural differences.
The main characters of Pyar Ka Pehla Shehar novel are "Sunan" and "Paskal." Sunan is a Pakistani tourist, who on his way to France, meets Paskal – A (handicap) beautiful french girl. On reaching France, Sunan decides to spend some time with her to cheer her up and get her life back to normal. As soon as they started the meeting, they realized that they are deeply in love with each other. Paskal prepares herself to give up everything for Sunan, But Sunan has to make a decision due to their cultural and social constraints.
To find out whether Sunan marries Paskal or not, you have to read the novel.
Being an experienced travelogue writer, The author captures the striking image of France's Museums, Rivers, Historical places, and their whereabouts. At times, the reader feels just like walking down the streets of France.
In a nutshell, no matter what genres of Urdu novels you are into, we recommend you to must read this novel once in a lifetime. It is the novel everyone should read at least once.
Download Pyar ka pehla shehar novel in PDF.
You can read online or download this novel for offline reading in PDF format. To download it, click on the download button below.