Ibn e Safi's (ابنِ صفی) name does not need any introduction for those who read spy novels in the Urdu language. He was probably the first novelist to write a notable espionage novel in Urdu. His real name was Asrar Ahmed (اسرار احمد), and he was one of the most prolific Urdu novelists. He wrote 125 books in the Jasoosi Duniya series – and 120 books for the Imran series. During his creative journey, he created many immortal characters, but the admiration that came to Ali Imran was unmatched by anyone else.
In 1955, Ibn-e-Safi started the Imran series with the novel Khaufnaak Imaarat which gained rapid popularity among Urdu readers. A young man named Ali Imran, who has a playful yet deceiving personality, is the protagonist of the series. In early novels, Imran appeared as a solo detective – But over time, the series got populated with the addition of new characters.
If you are curious to learn more about the Imran series and its characters, please read this article on Wikipedia.
Besides Ibn-e-Safi, various writers like M.A Rahat, H Iqbal, S. Qureshi, and Mazhar Kaleem MA wrote Imran series novels, but none of them could live up to the high standard of Safi.
Complete List of Imran Series Novels Written By Ibn-e-Safi
A complete list of Imran Series novels by Ibn e Safi is available below to download in pdf format for free. To download, click on the given download link and download will automatically begin within a few seconds.
If you find a link not working, please let us know in the comments so that we can update it for you. and don't forget to share it with your friends and fellow Imran Series fans.
Ibn-e-Safi Imran Series Book/Jild 01: Khofnak Imarat
This book contains three stories, which are:
Khofnak Amart (خوفناک عمارت)

Chataon Main Fire (چٹانوں میں فائر)

Purisrar Cheekhaian (پراسرار چیخیں)
Ibn-e-Safi Imran Series Book/Jild 02: Bhayanak Aadmi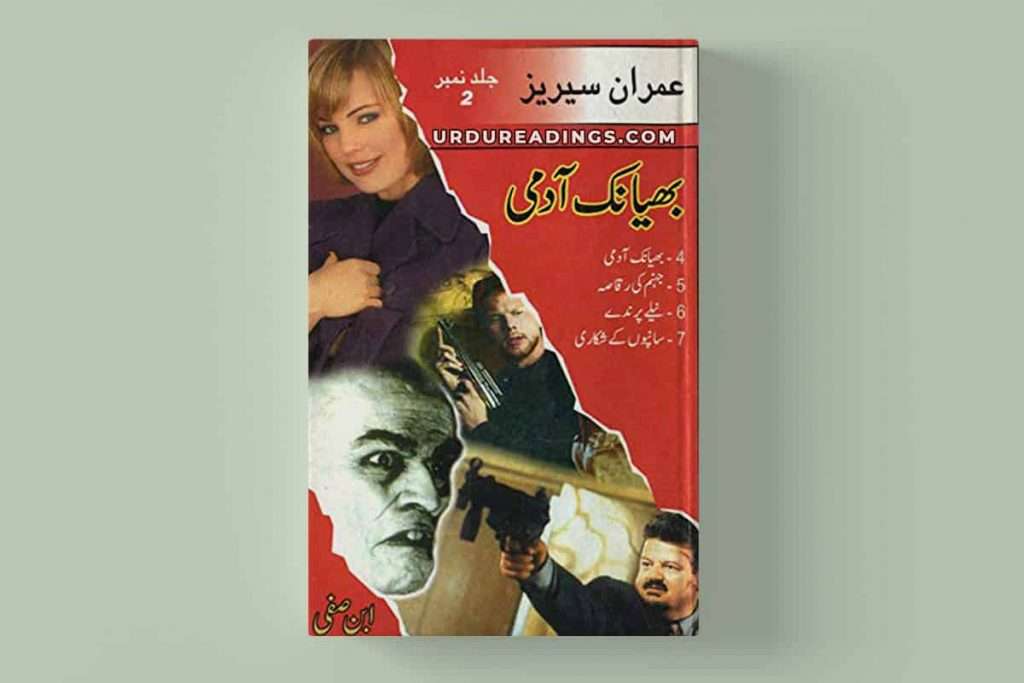 This book contains four stories, which are:
Bhayanak Aadmi ( بھیانک آدمی)

Jahannum Ki Raqasa (جہنم کی رقاصہ)

Neelay Parinday (نیلے پرندے)

Saanpon Ke Shikaari (سانپوں کے شکاری)
Ibn-e-Safi Imran Series Book/Jild 03: Raat Ka Shahzada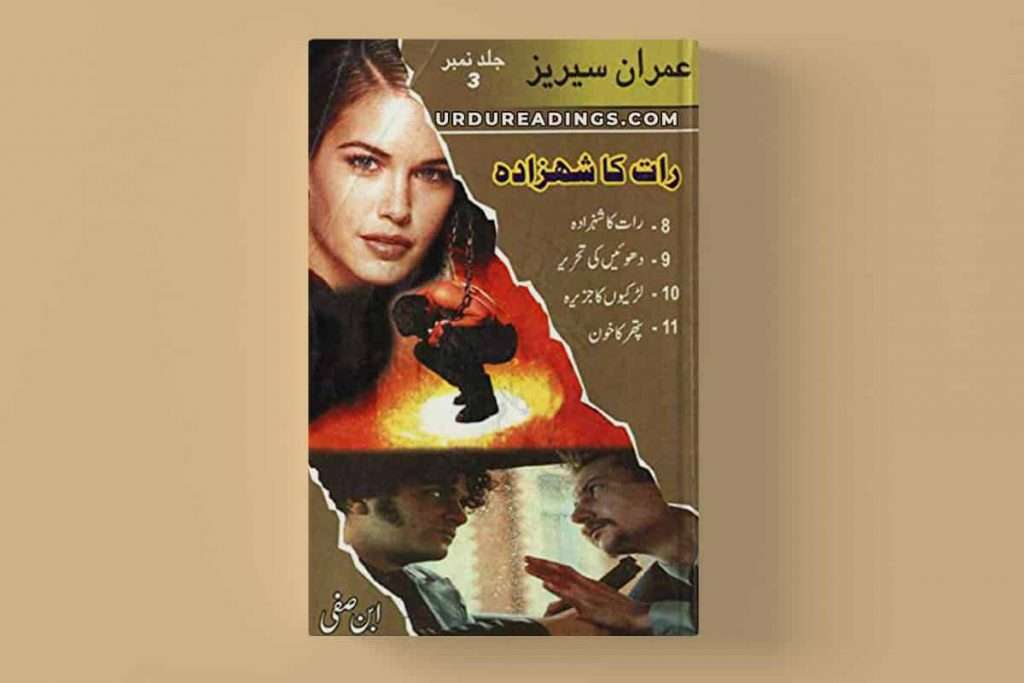 This book contains four stories, which are:
Raat Ka Shahzada (رات کا شہزادہ)

Dhuwyen Ki Tehreer (دھوئیں کی تحریر)

Ladkiyon Ka Jazeera (لڑکیوں کا جزیرہ)

Pathhar Ka Khoon (پتھر کا خون)
Ibn-e-Safi Imran Series Book/Jild 04: London Ka Fitna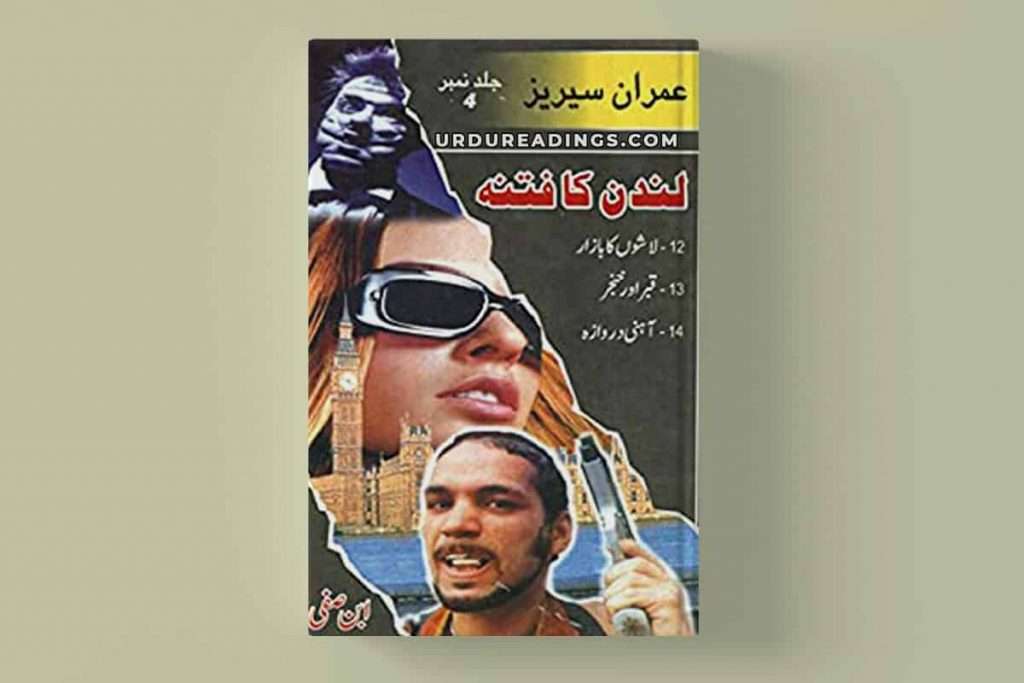 This book contains three stories, which are:
Lashoon ka Bazar (لاشوں کا بازار)

Qabar or Khanjar (قبر اور خنجر)

Aahni Darwaza (آہنی دروازہ)
Ibn-e-Safi Imran Series Book/Jild 05: Shakraal Ka Naasoor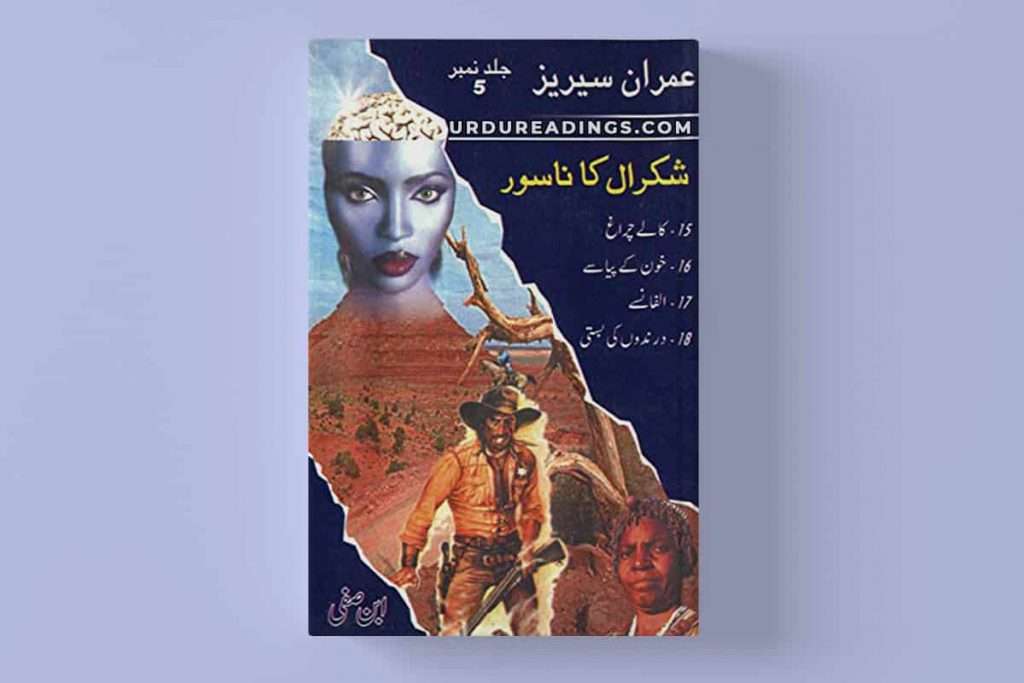 This book contains four stories, which are:
Kalay Chiragh (کالے چراغ)

Khoon ke Pyasee (خون کے پیاسے)

Alfansy (الفانسے)

Darindoon Ki Basti (درندوں کی بستی)
Ibn-e-Safi Imran Series Book/Jild 06: Gumshuda Shahzadi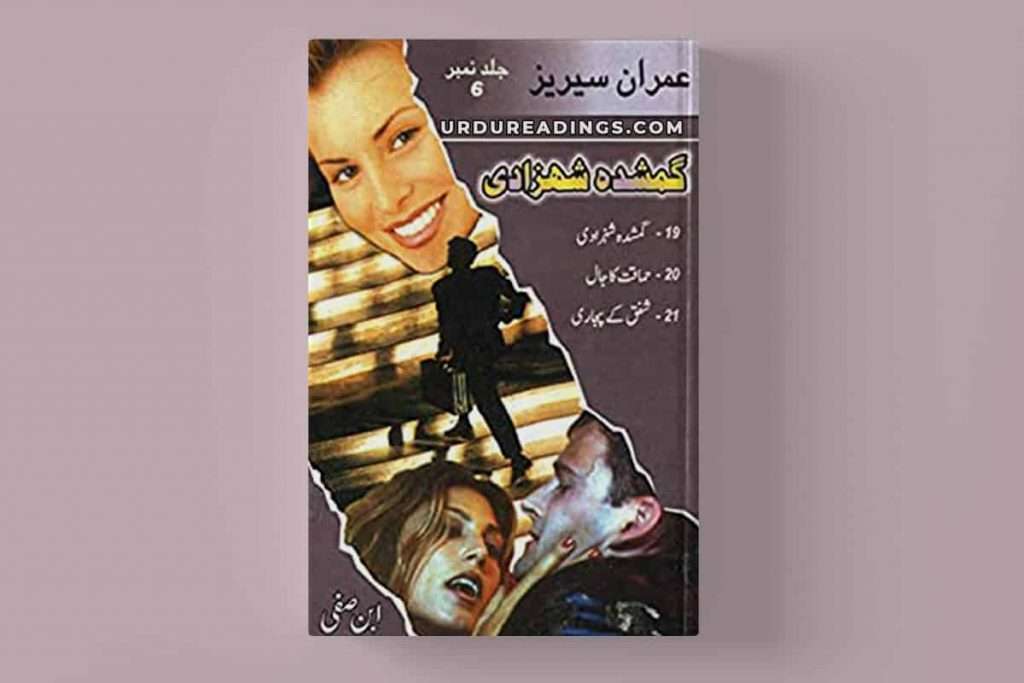 This book contains three stories, which are:
Gumshuda Shahzadi (گمشدہ شہزادی)

Hamakat Ka Jaal (حماقت کا جال)

Shafaq ky Pujari (شفق کے پجاری)
Ibn-e-Safi Imran Series Book/Jild 07: Qasid Ki Talaash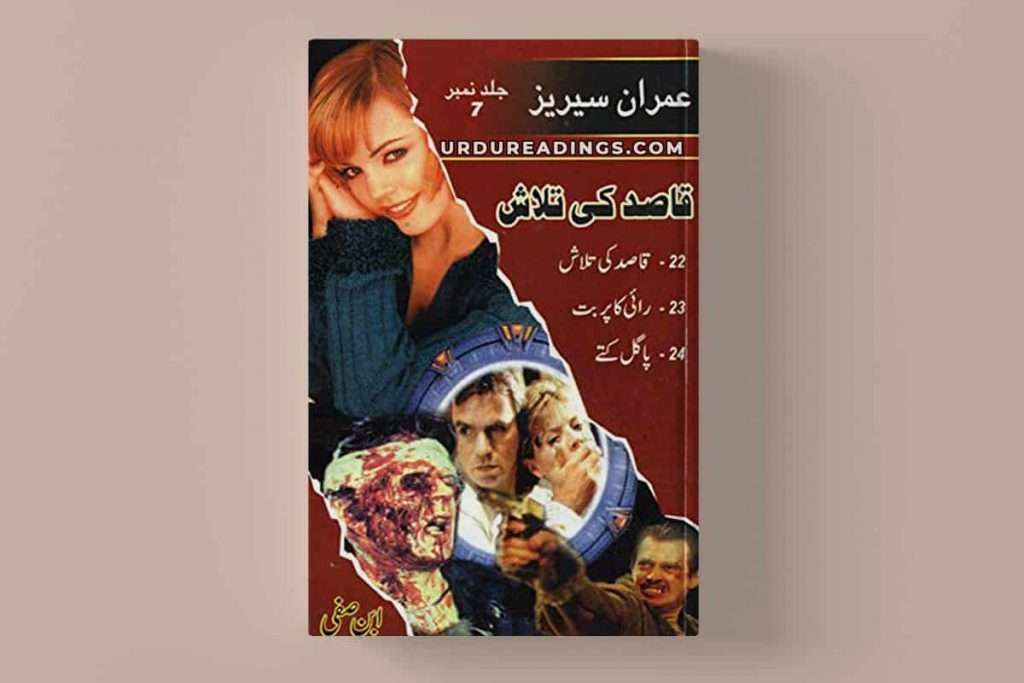 This book contains three stories, which are:
Qasid ki Taalash (قاصد کی تلاش)

Rai Ka Parbat (رائی کا پربت)

Pagal Kuttay (پاگل کتے)
Ibn-e-Safi Imran Series Book/Jild 08: Thressa Ki Wapsi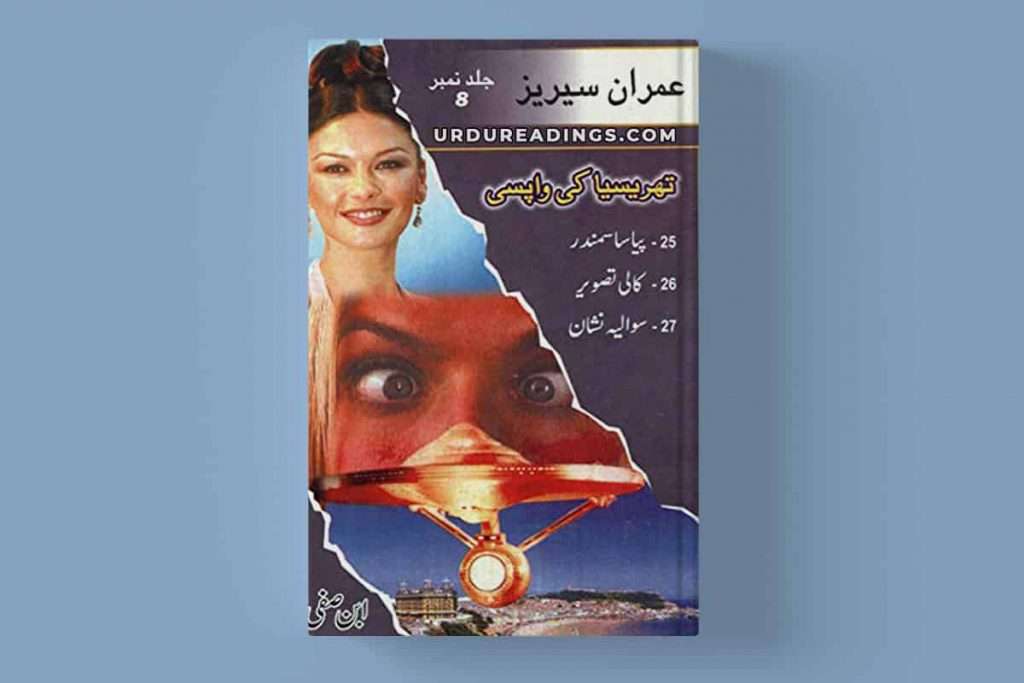 This book contains three stories, which are:
Payasa Samandar (پیاسا سمندر)

Kali Tasweer (کالی تصویر)

Sawaliya Nishan (سوالیہ نشان)
Ibn-e-Safi Imran Series Book/Jild 09: Khatarnaak Lashain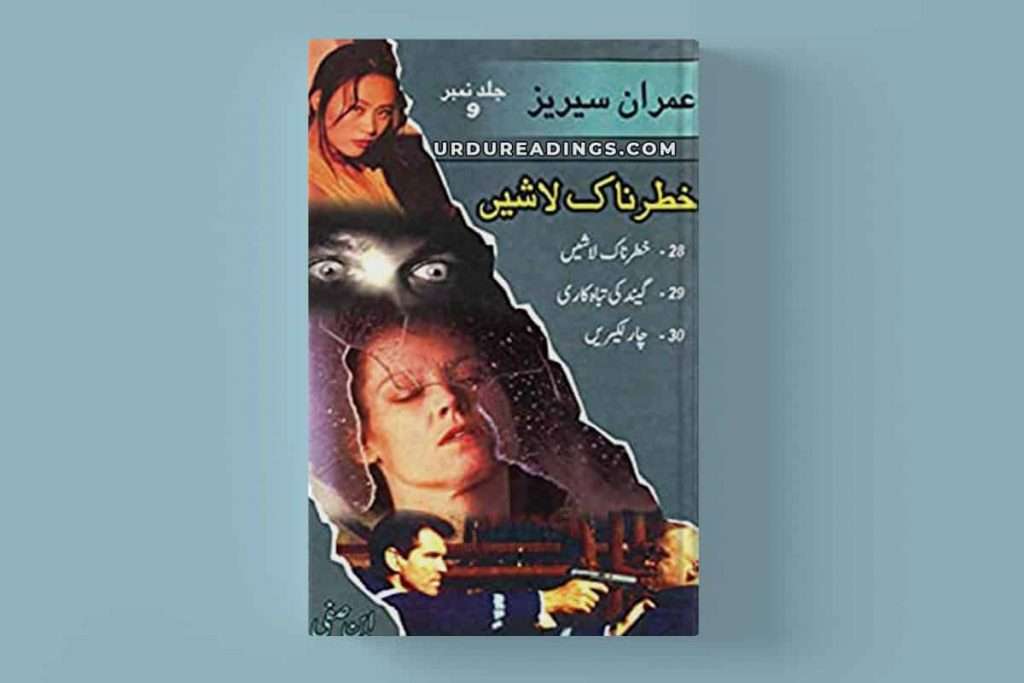 This book contains three stories, which are:
Khatarnaak Lashain (خطرناک لاشیں)

Gaaind Ki Tabahi (گیند کی تباہی)

Char Lakeerain (چار لکیریں)
Ibn-e-Safi Imran Series Book/Jild 10: Tajoori Ka Hangama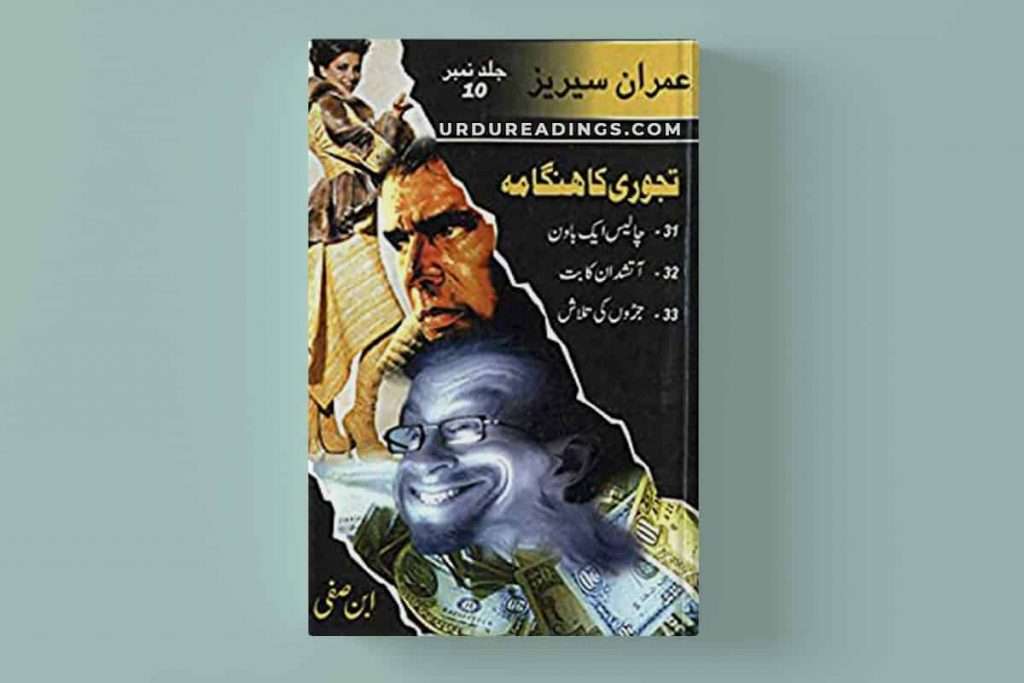 This book contains three stories, which are:
Chalis Aik Baawan (چالیس ایک باون)

Aatishdan ka But (آتش دان کا بت)

Jaroon Ki Talash (جڑوں کی تلاش)
Ibn-e-Safi Imran Series Book/Jild 11: Bogha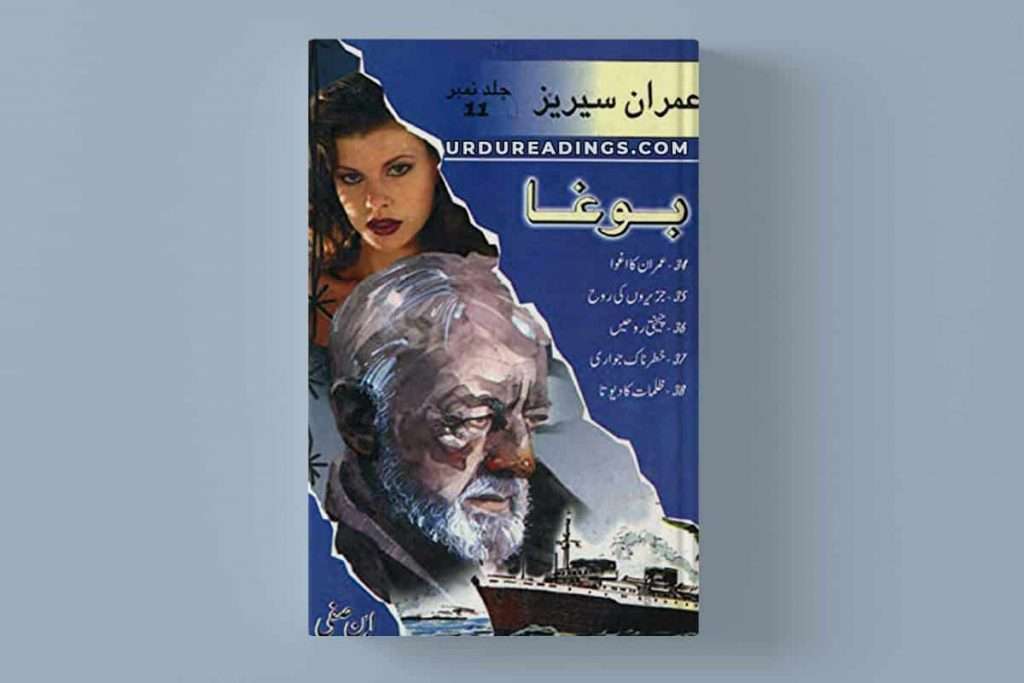 This book contains five stories, which are:
Imran Ka Aghwa (عمران کا اغواہ)

Jazeeroon Ki Roh (جزیروں کی روح)

Cheekhti Rohain (چیختی روحیں)

Khatarnak Jawari (خطرناک جواری)

Zulmat Ka Devta (ظلمت کا دیوتا)
Ibn-e-Safi Imran Series Book/Jild 12: Humbing the Great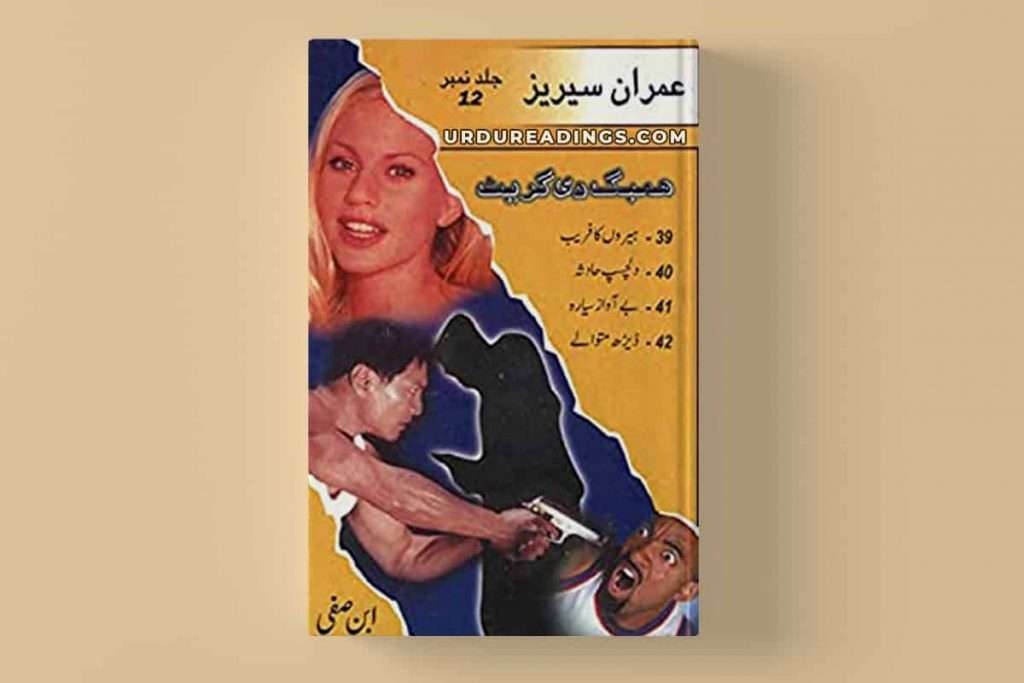 This book contains four stories, which are:
Heroon Ka Faraib (ہیروں کا فریب)

Dilchasp Hadsa (دلچسپ حادثہ)

Be Awaz Siyara (بے آواز سیارہ)

Derdh Matwaly (ڈیڑھ متوالے)
Ibn-e-Safi Imran Series Book/Jild 13: Atashi Badal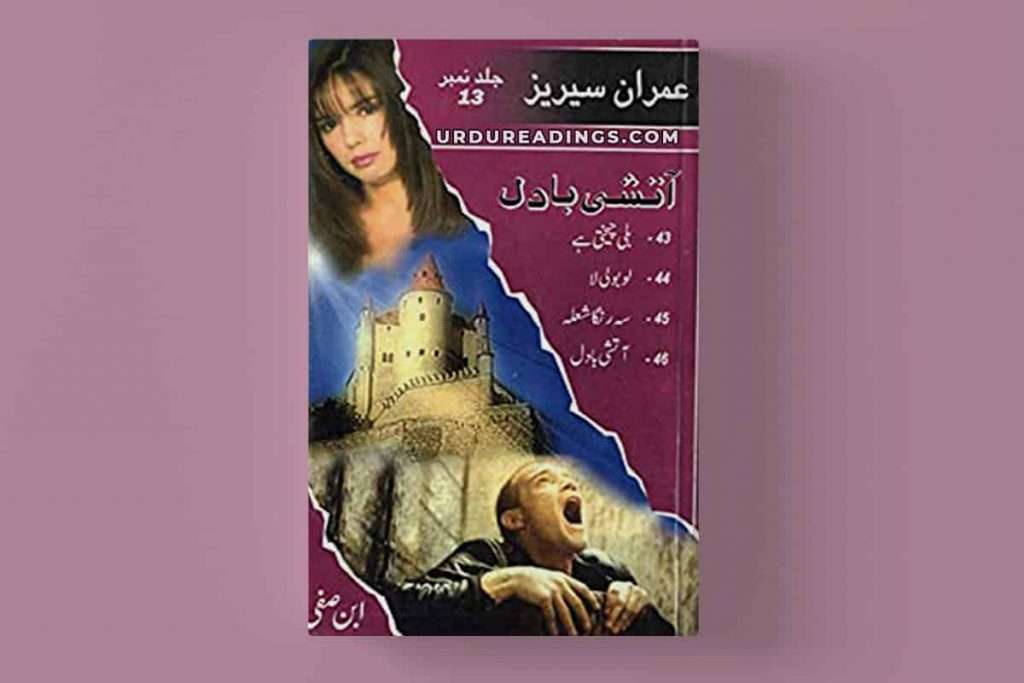 This book contains four stories, which are:
Billi Chekhti Hai (بلی چیختی ہے)

Lo Boli La (لو بولی لا)

Seh Ranga Shola (سہ رنگا شعلہ)

Aatishi Badal (آتشی بادل)
Ibn-e-Safi Imran Series Book/Jild 14: Lawal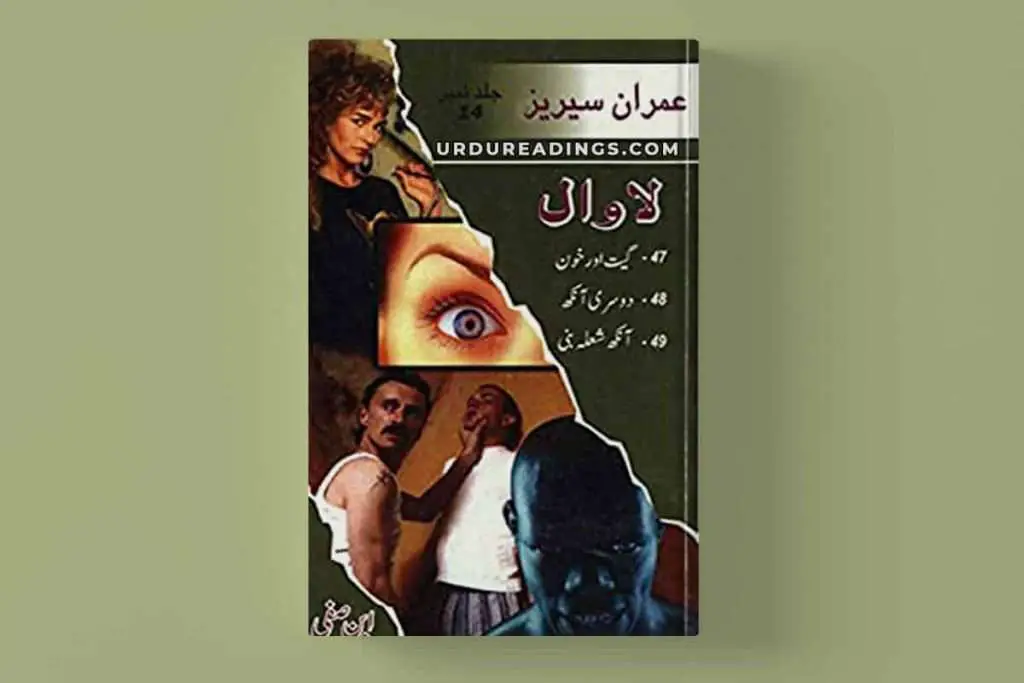 This book contains three stories, which are:
Geet Or Khoon (گیت اور خون)

Dosri Aankh (دوسری آنکھ)

Aankh Bani Shola (آنکھ بنی شعلہ)
Ibn-e-Safi Imran Series Book/Jild 15: Sugar Bank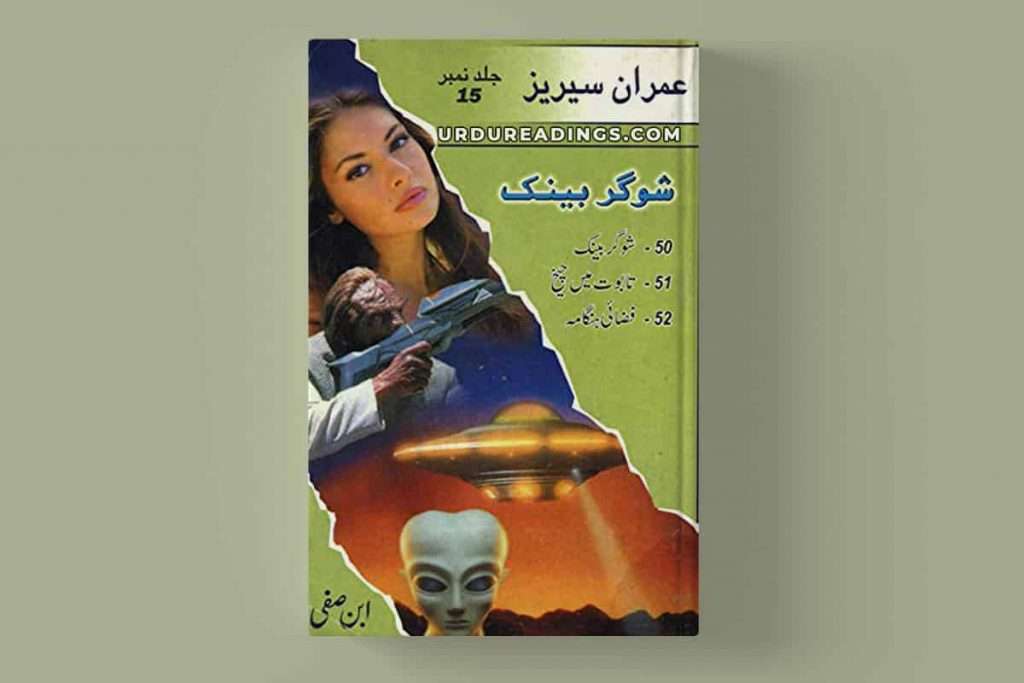 This book contains three stories, which are:
Sugar Bank (شوگر بنک)

Taboot Main Cheikh (تابوت میں چیخ)

Faizai Hungama (فضائی ہنگامہ)
Ibn-e-Safi Imran Series Book/Jild 16: Sabaz Lahoo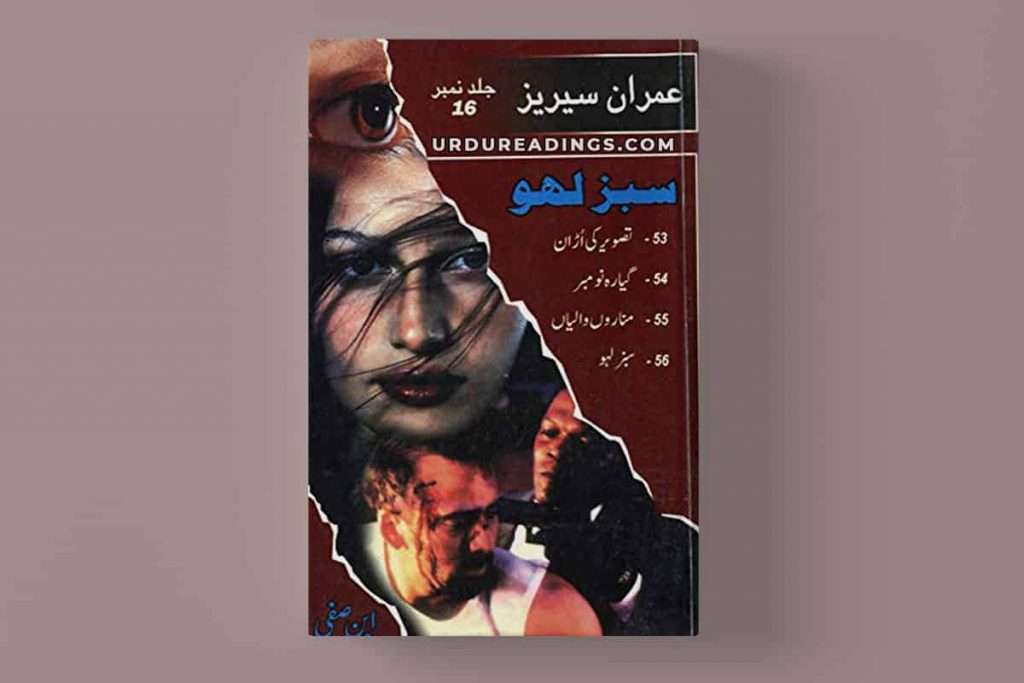 This book contains four stories, which are:
Tasweer Ki Uraan (تصویر کی اڑان)

Gyarah November (گیارہ نومبر)

Minaroon Waliyain (مناروں والیاں)

Sabaz Lahoo (سبز لہو)
Ibn-e-Safi Imran Series Book/Jild 17: Pagloon Ki Anjuman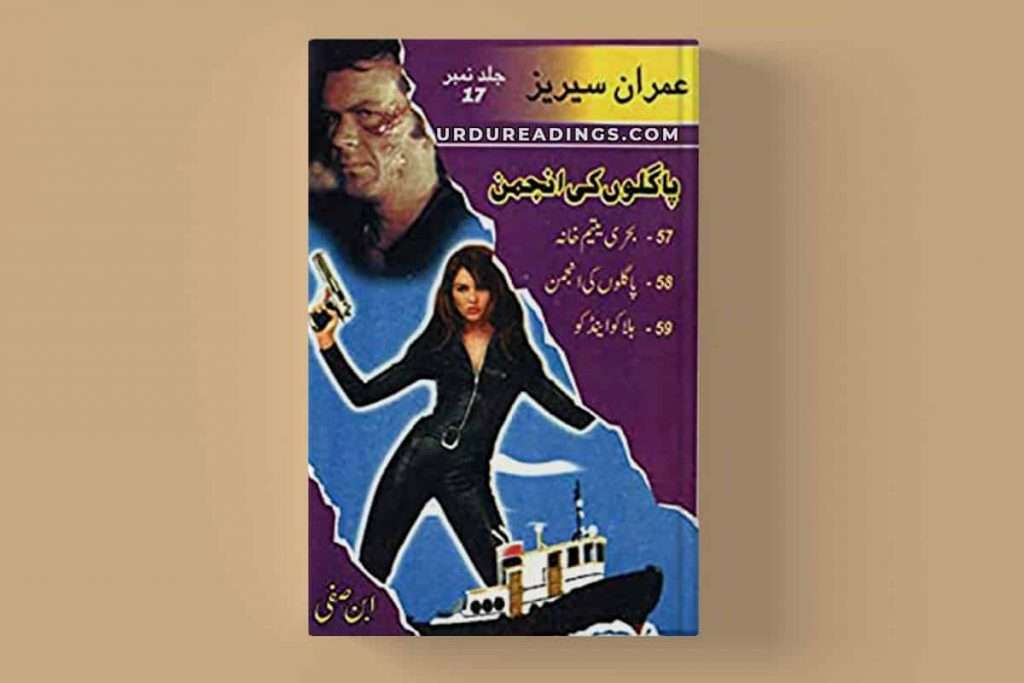 This book contains three stories, which are:
Behri Yateem Khana (بحری یتیم خانہ)

Pagaloon Ki Anjuman (پاگلوں کی انجمن)

Halaco and Co (ہلاکو اینڈ کو۔)
Ibn-e-Safi Imran Series Book/Jild 18: Maut Ka Hath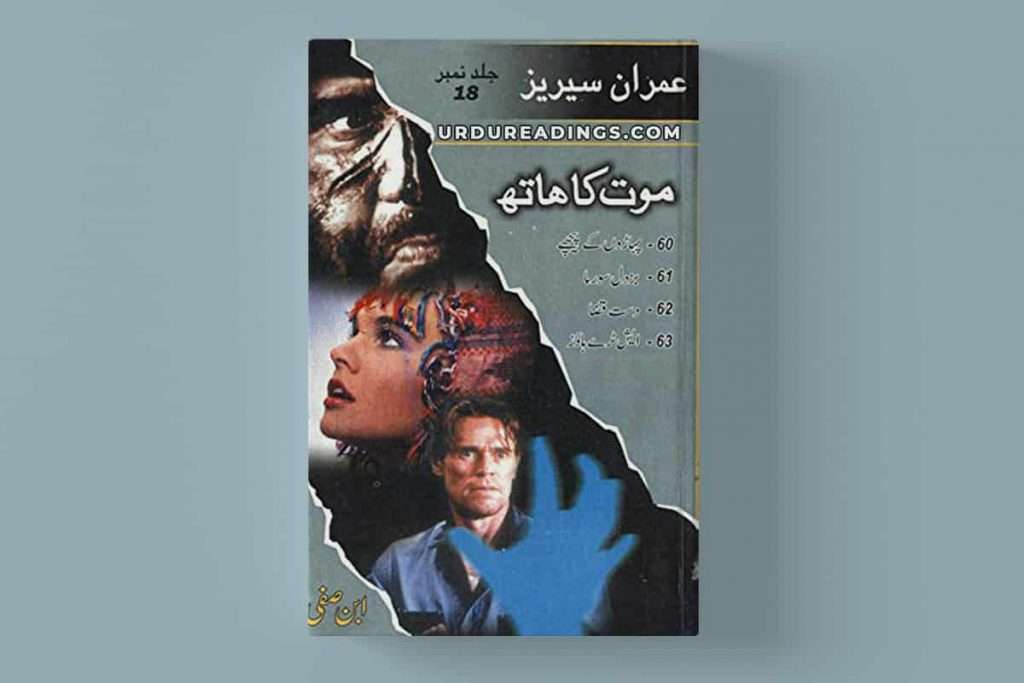 This book contains four stories, which are:
Paharoon Kay Peechay (پہاڑوں کے پیچھے)

Buzdil Soorma (بزدل سورما)

Dast e Qaza (دستِ قضا)

Ash-tray House (ایش ٹرے ہاوس)
Ibn-e-Safi Imran Series Book/Jild 19: Sang-Hee Ki Wapsi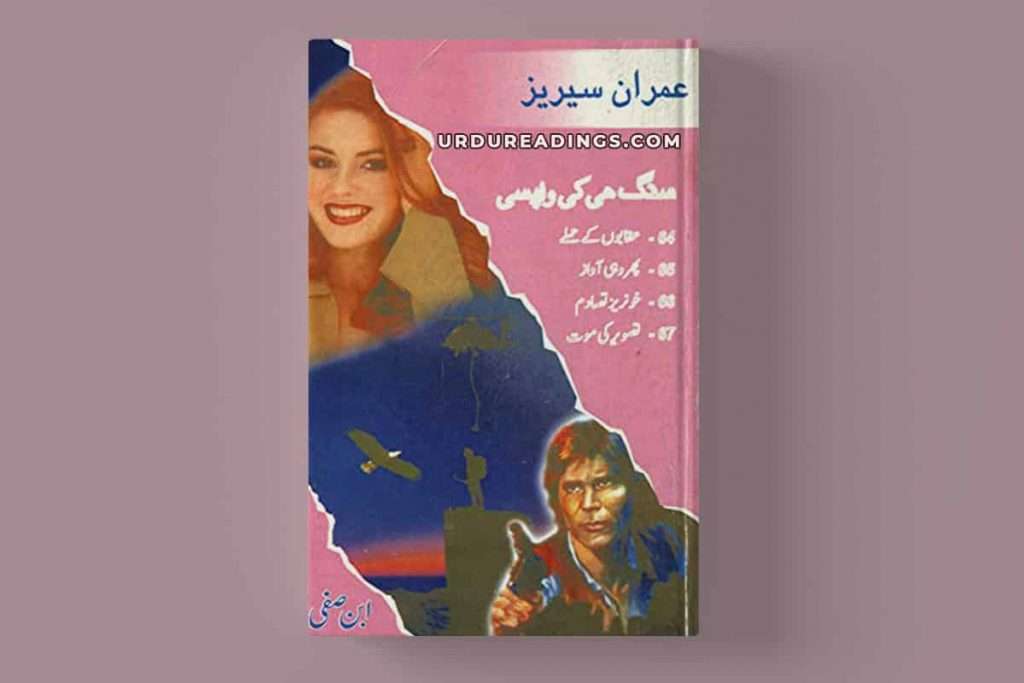 This book contains four stories, which are:
Ukaboon Ky Hamlay (عقابوں کے حملے)

Phir Wohi Awaz (پھر وہی آواز)

Khoon Rezi Tasadum (خون ریزی تصادم)

Tasweer Ki Maut (تصویر کی موت)
Ibn-e-Safi Imran Series Book/Jild 20: King Chawking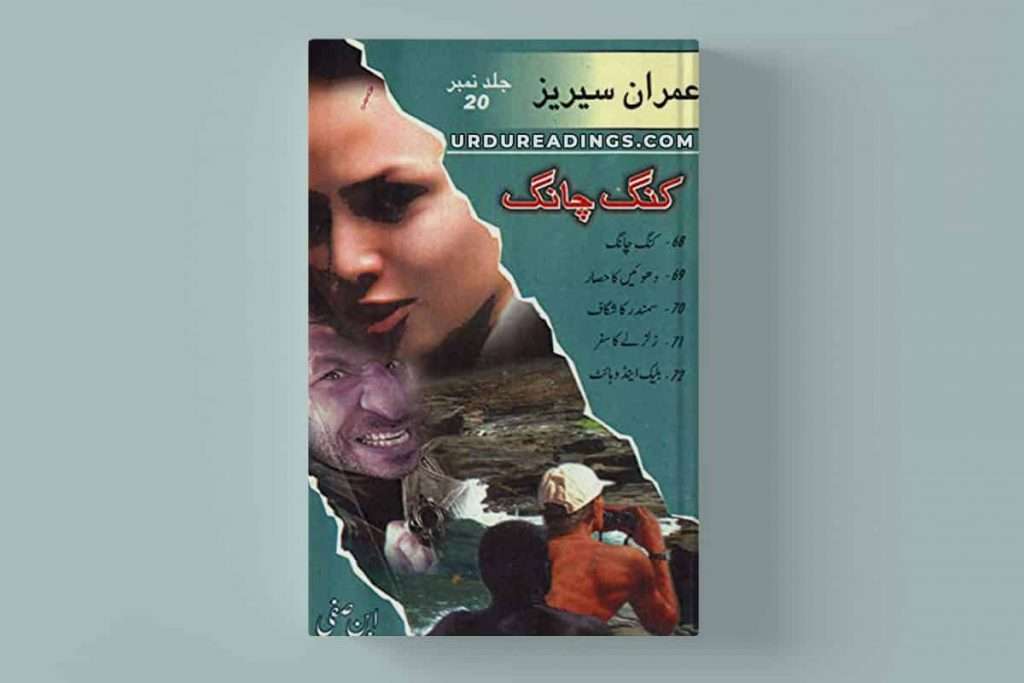 This book contains five stories, which are:
King Chawking (کنگ چاکنگ)

Dhuayen Ka Hisar (دھوئیں کا حصار)

Sumandar Ka Shigafh (سمندر کا شگاف)

Zalzaly Ka Safar (زلزلے کا سفر)

Black and White (بلیک اینڈ وائٹ)
Ibn-e-Safi Imran Series Book/Jild 21: Manhoos Kaikra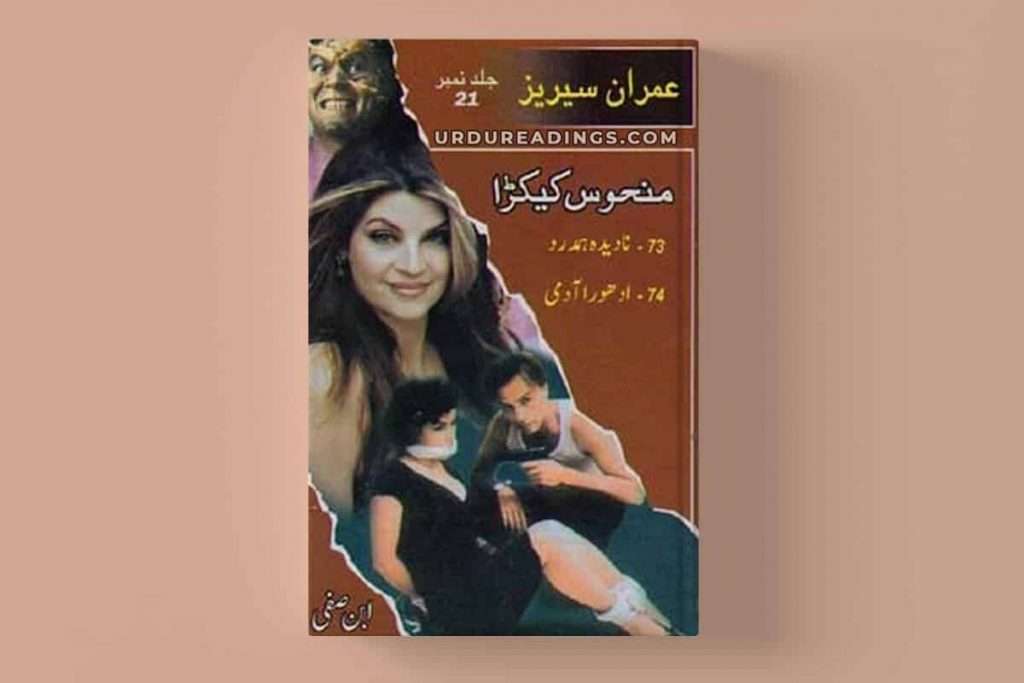 This book contains two stories, which are:
Nadeedah Hamdard (نادیدہ ہمدرد)

Adhoora Admi (ادھورا آدمی)
Ibn-e-Safi Imran Series Book/Jild 22: Ad Lawa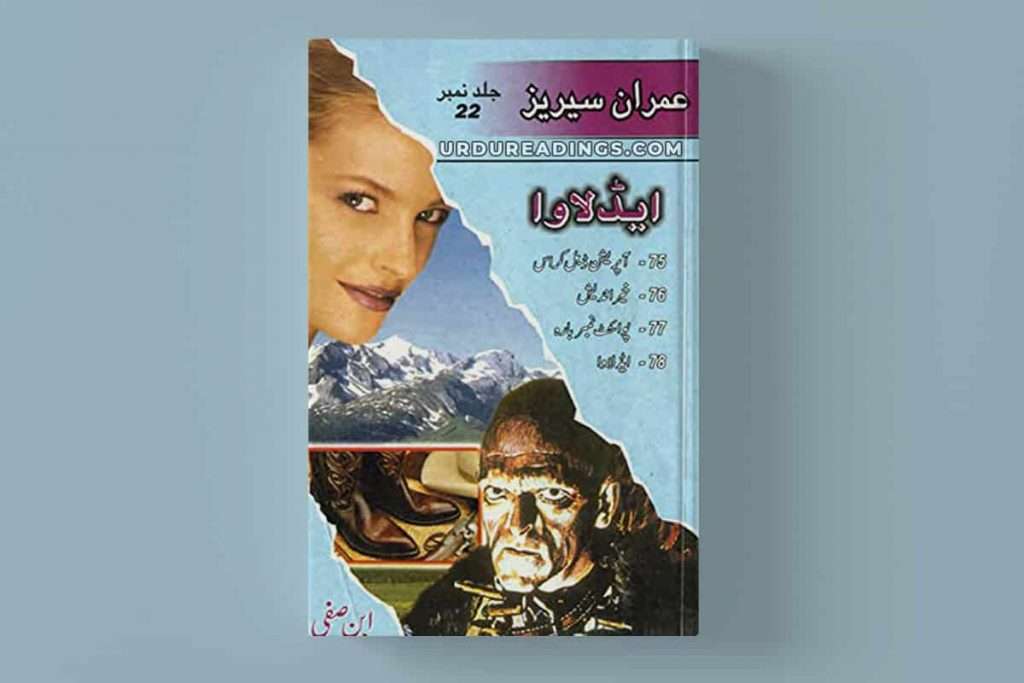 This book contains four stories, which are:
Operation Double Cross (آپریشن ڈبل کراس)

Khair Andeesh (خیر اندیش)

Point Number Barah (پوائنٹ نمبر بارہ)

Ad Lawa (ایڈ لاوا)
Ibn-e-Safi Imran Series Book/Jild 23: Begam X-2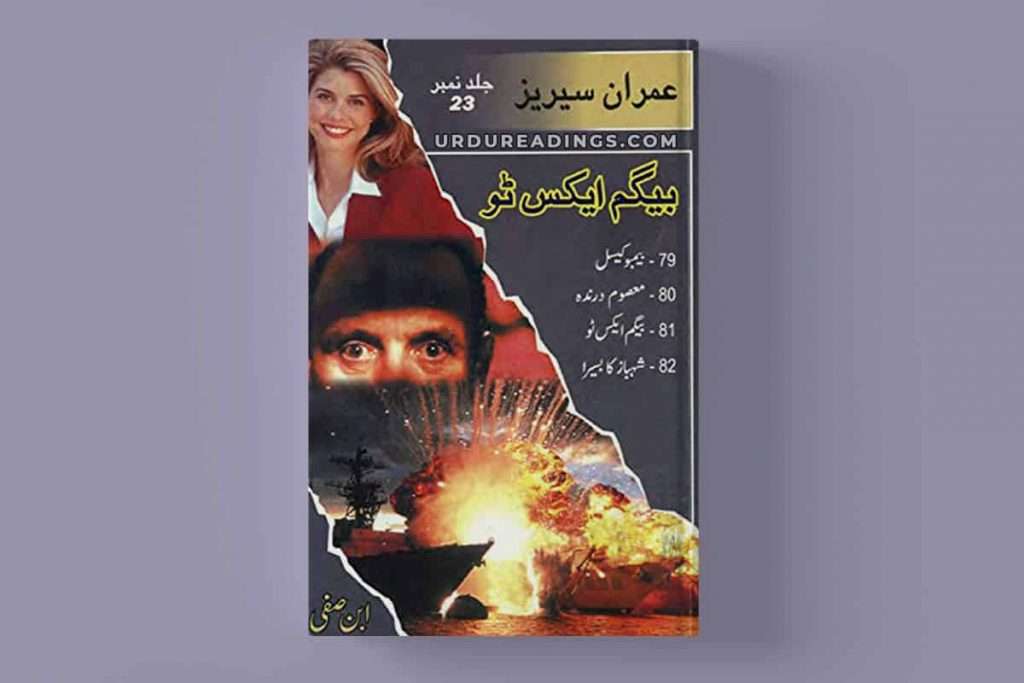 This book contains four stories, which are:
Bamboo Castle (بمبو کاسل)

Masoom Drindah (معصوم درندہ)

Begam X-2 (بیگم ایکسٹو)

Shehbaz Ka Baseera (شہباز کا بسیرہ)
Ibn-e-Safi Imran Series Book/Jild 24: Teen Sanki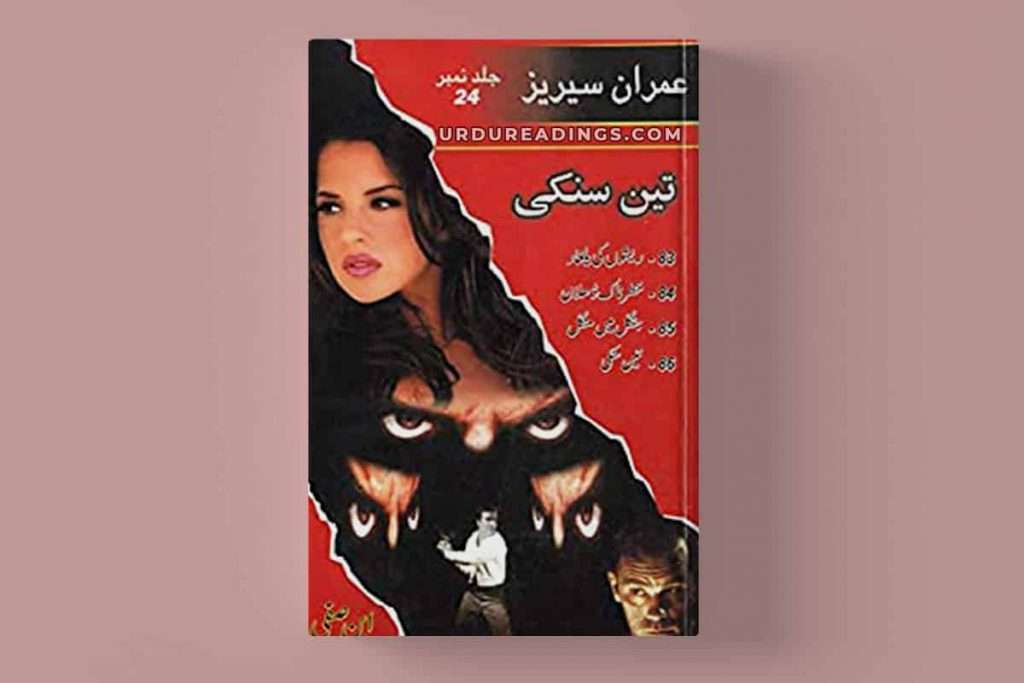 This book contains four stories, which are:
Reshoon Ki Yalghar (ریشوں کی یلغار)

Khatarnak Dhalaan (خطرناک دڈھلان)

Jungle Main Mungle (جنگل میں منگل)

Teen Sanki (تین سنکی)
Ibn-e-Safi Imran Series Book/Jild 25: Adha Teetar Adha Bateer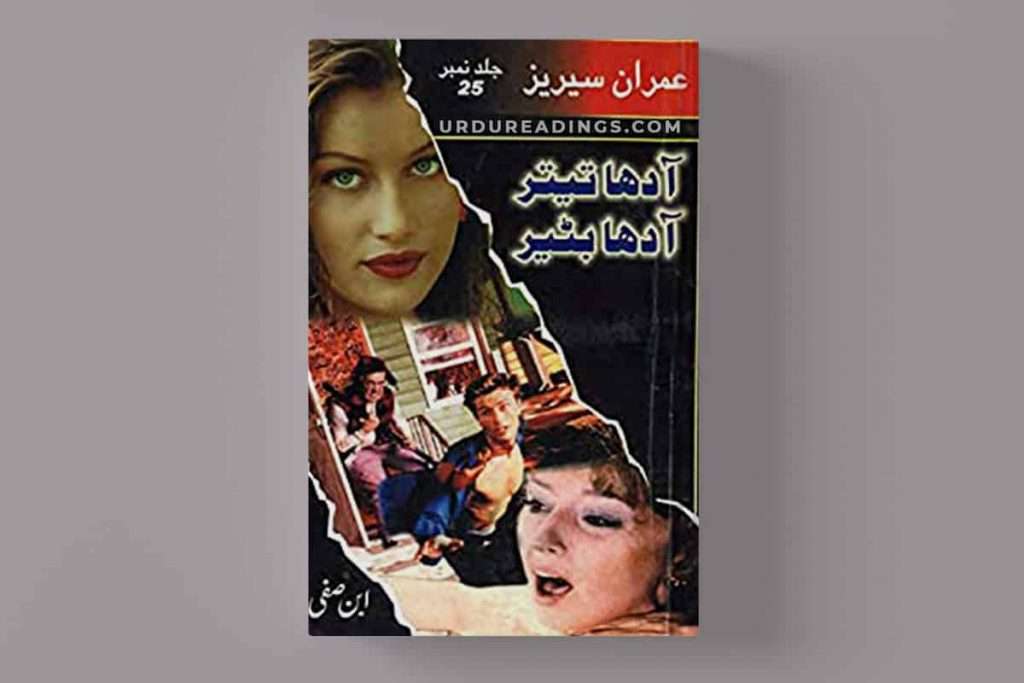 This book contains one story, which is:
Adha Teetar Adha Bateer (آدھا تیتر آدھا بٹیر)
Ibn-e-Safi Imran Series Book/Jild 26: Allama Deshatnak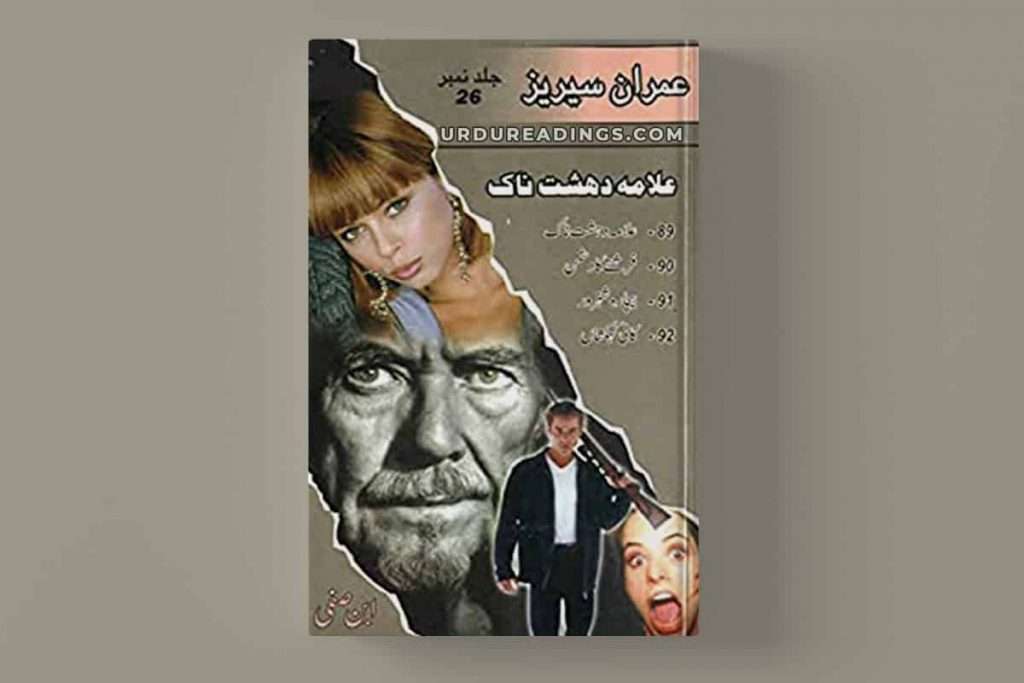 This book contains four stories, which are:
Allama Dehshatnaak (علامہ دہشت ناک )

Farishtay Ka Dushman (فرشتے کا دشمن)

Bechara Shehzada (بے چارہ شہزادہ)

Kali Kehkashan (کالی کہکشاں)
Ibn-e-Safi Imran Series Book/Jild 27: Jonk Or Nagin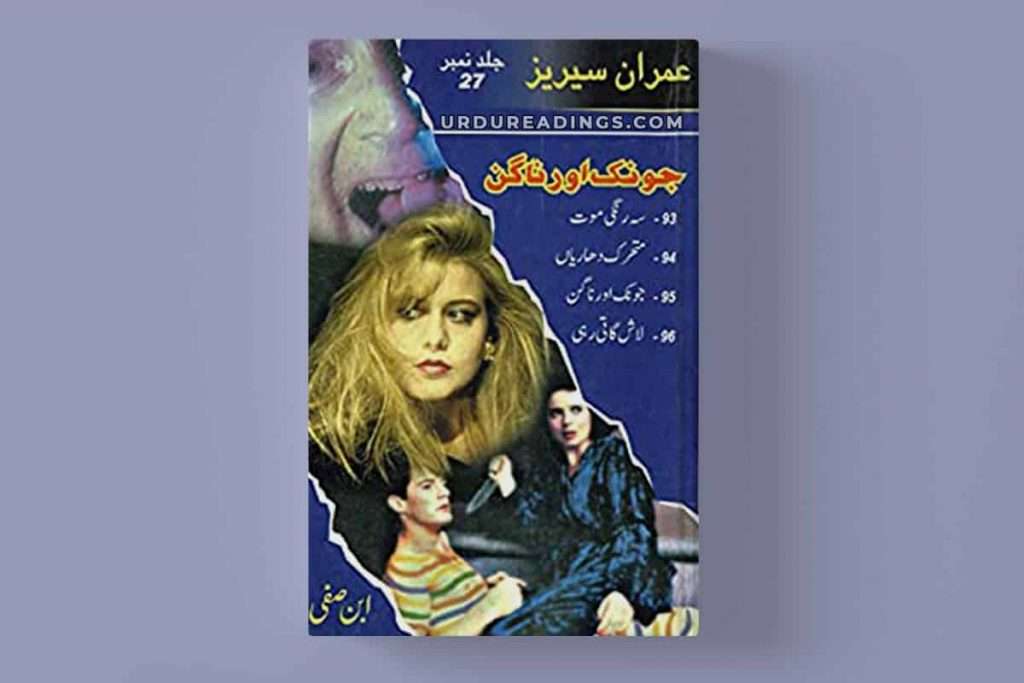 This book contains four stories, which are:
Sahrangi Moot (سہ رنگی موت)

Mutharak Dhariyan (متحرک دھاریاں)

Jonk Or Nagin (جونک اور ناگن)

Lash Gati Rahi (لاش گاتی رہی)
Ibn-e-Safi Imran Series Book/Jild 28: Baba Sug Parast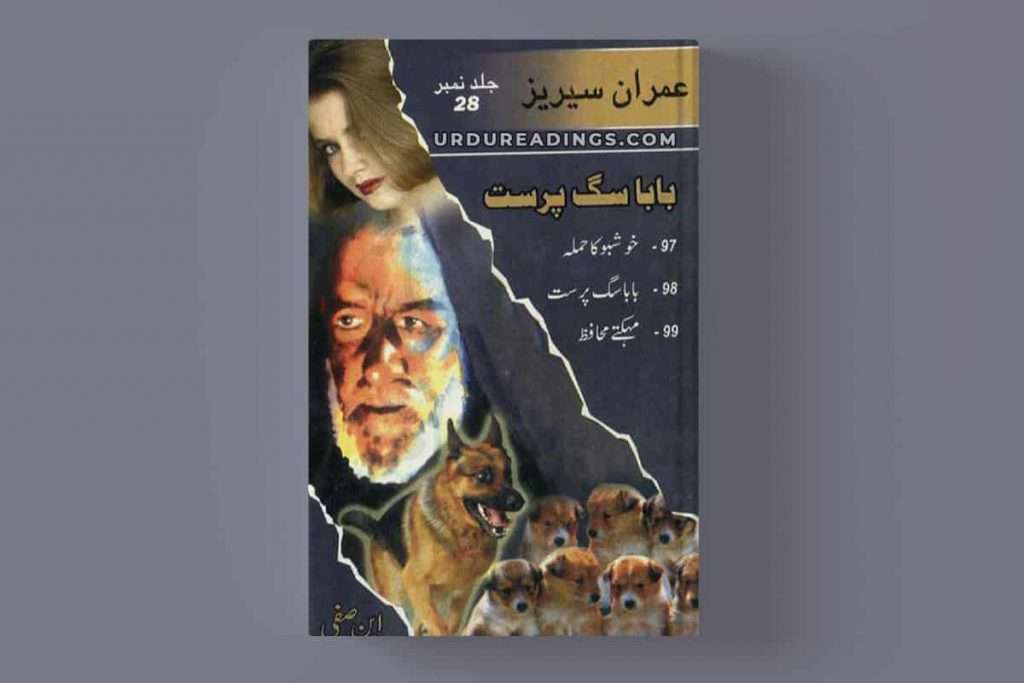 This book contains three stories, which are:
Khushboo Ka Hamla (خوشبو کا حملہ)

Baba Sug Parast (بابا سگ پرست)

Mehaktay Muhafiz (مہکتے محافظ)
Ibn-e-Safi Imran Series Book/Jild 29: Halakat Khaiz
This book contains three stories, which are:
Halakat Khaiz (ہلاکت خیز)

Zeebra Man (زیبرا مین)

Jungle Ki Shehriyat (جنگل کی شہریت)
Ibn-e-Safi Imran Series Book/Jild 30: Mona Lisa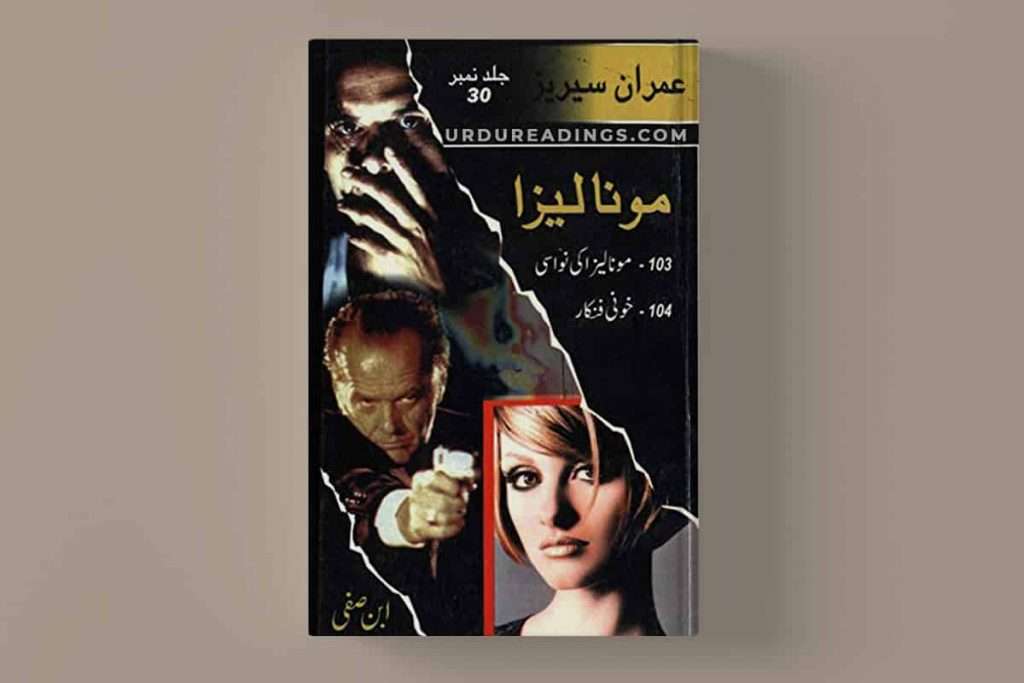 This book contains two stories, which are:
Moona Lisa Ki Nawasi (مونا لیزا کی نواسی)

Khooni Fankar (خونی فنکار)
Ibn-e-Safi Imran Series Book/Jild 31A: Zero Land Ki Talash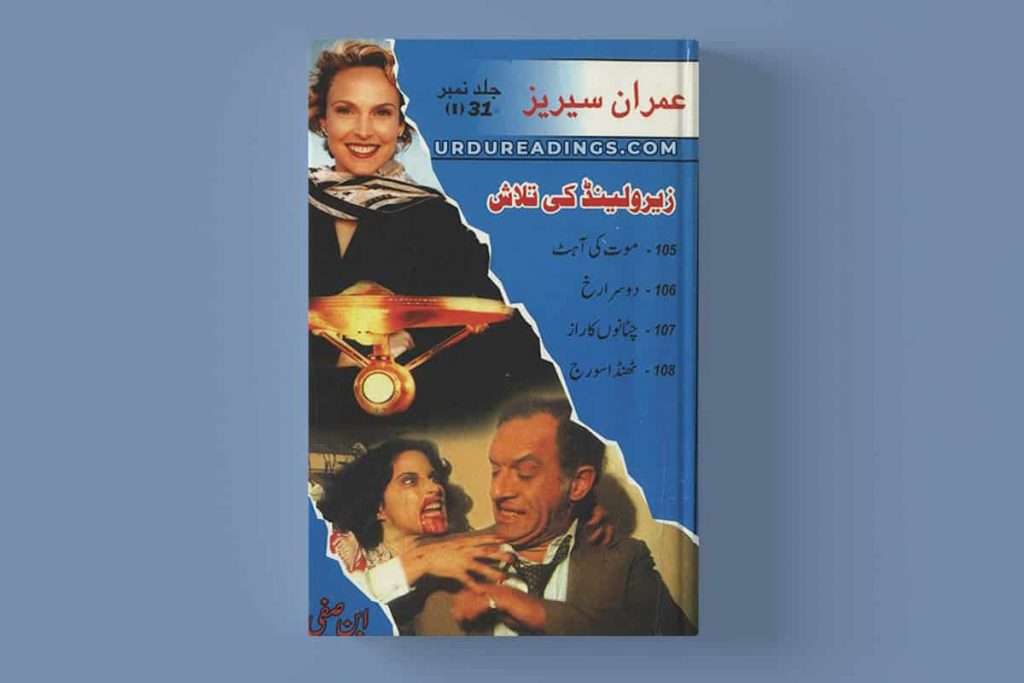 This book contains four stories, which are:
Maut Ki Aahat (موت کی آہٹ)

Doosra Rukh (دوسرا رخ)

Chatanoon Ka Raaz (چٹانوں کا راز)

Thanda Sooraj (ٹھنڈا سورج)
Ibn-e-Safi Imran Series Book/Jild 31B: Zero Land Ki Talash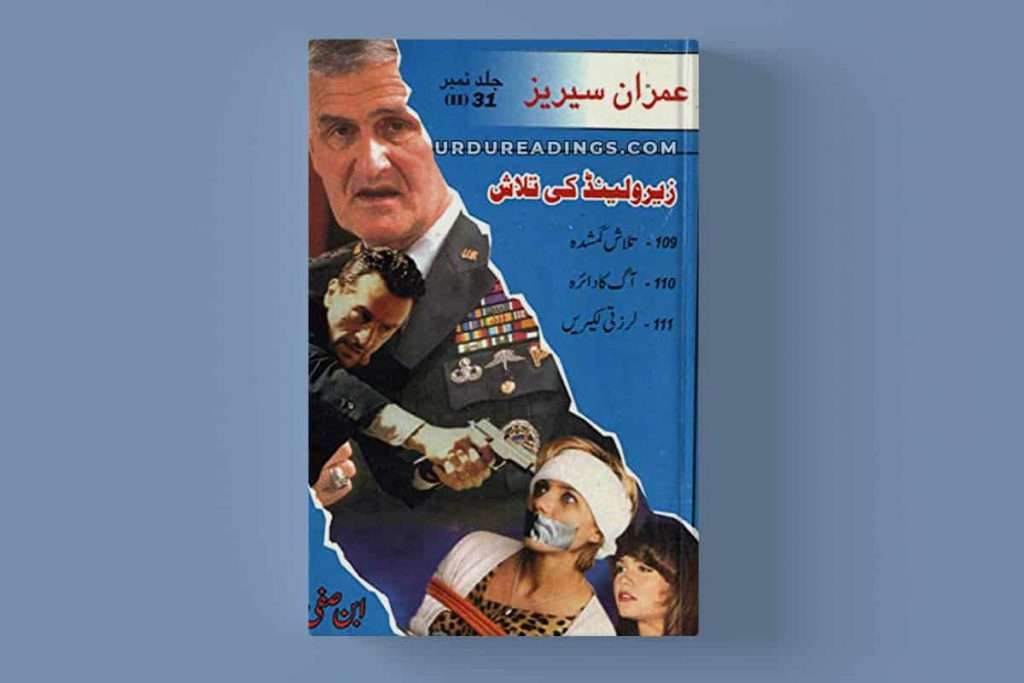 This book contains three stories, which are:
Talaash e Gumshuda (تلاشِ گمشدہ)

Aag Ka Daiyra (آگ کا دائرہ)

Larazti Lakeerain (لرزتی لکیریں)
Ibn-e-Safi Imran Series Book/Jild 32: Khatarnaak Ungliyaan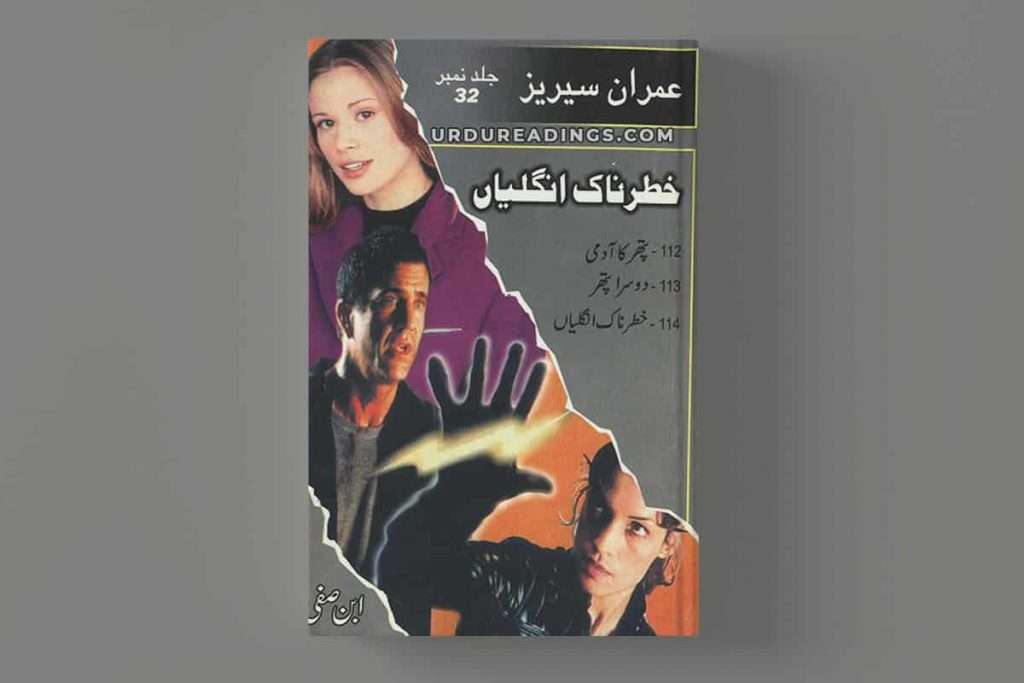 This book contains three stories, which are:
Pathar Ka Admi (پتھر کا آدمی)

Doosra Pathar (دوسرا پتھر)

Khatarnak Ungliyan (خطرناک انگلیاں)
Ibn-e-Safi Imran Series Book/Jild 33: Aakhri Aadmi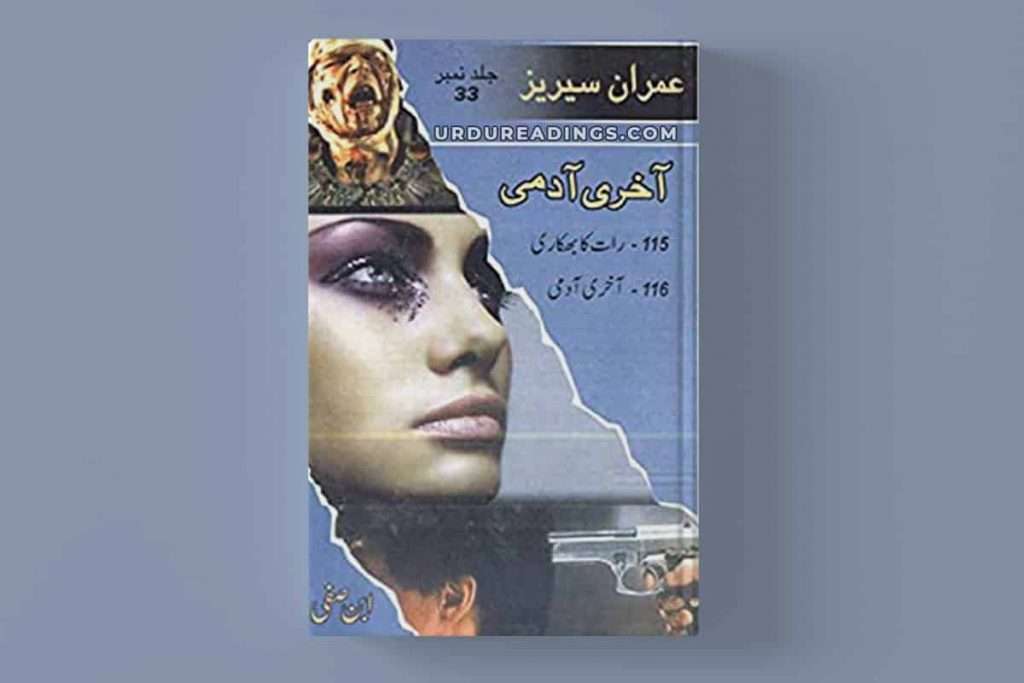 This book contains two stories, which are:
Raat Ka Bhikari (رات کا بھکاری)

Akhri Admi (آخری آدمی)
Ibn-e-Safi Imran Series Book/Jild 34: Dr. Duago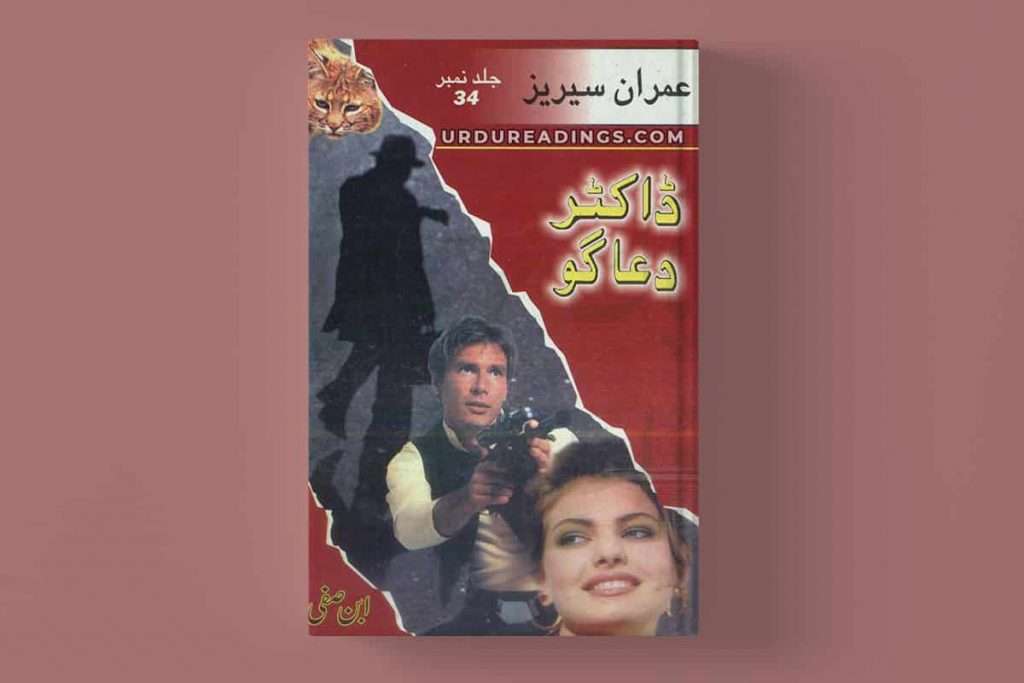 This book contains one story, which is:
Dr. Dua go (ڈاکٹر دعا گو)
Ibn-e-Safi Imran Series Book/Jild 35: Sang-Hee In Action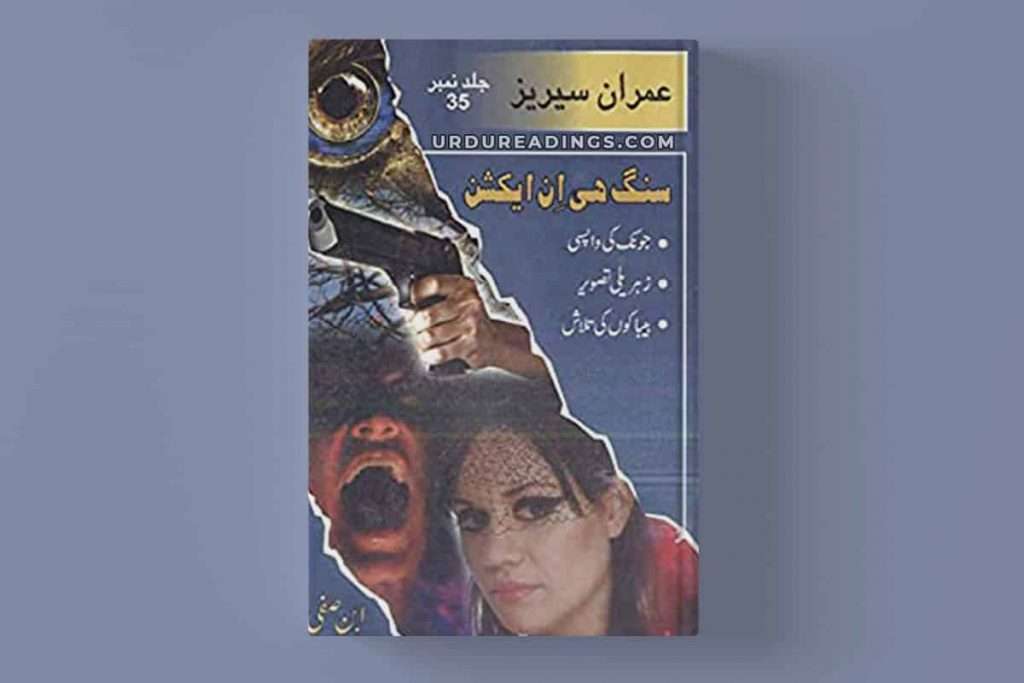 This book contains three stories, which are:
Jonk Ki Wapsi (جونک کی واپسی)

Zahreeli Tasweer (زہریلی تصویر)

Baybakoon Ki Talash (بےباکوں کی تلاش)