Samandar Ka Beta is an action and adventure Urdu novel written by renowned Urdu novelist M.A Rahat. It is a unique story of a young man who emerges from the sea's relentless waves – and is endowed with strange powers by nature. The story is full of adventure, supernatural events, and of course, Romance.
M.A Rahat is a renowned Urdu novelist who has authored hundreds of mystery, thriller, action, and adventure Urdu novels. His novels on supernatural creatures and forces are widely popular among Urdu readers. On this site, you can explore all Urdu Novels written by M.A Rahat.
Samandar Ka Beta Novel By M.A Rahat Summary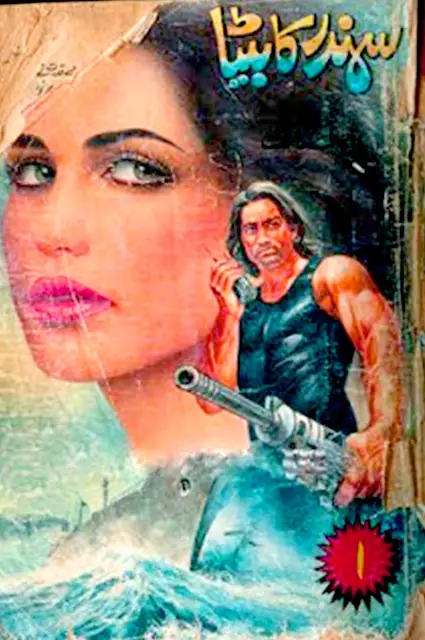 The story starts in a town of fishers living in huts by the sea. Among those, there is a fisherman named Ramzan who lives in his cabin with his pregnant wife. One night, as usual, the couple goes fishing. They spread their nets in the sea and wait for the prey. That is when a storm breaks out in the ocean. The storm was so terrible that both of them lose their lives.
The following day there is a commotion in the town, and everyone starts gathering on the beach. In such a situation, when everybody was stunned by the events of last night, they find a child in the sea waves. They figured he is the son of the Sultan. A family takes the responsibility of raising the kid and named him Shabaan (شعبان).
Thus, the hero of the story comes to this world from the ocean. After that, we get to read about his exciting and adventurous life. The novel is so intriguing and riveting that you would immerse yourself in the story and feel yourself living with the characters.
Download Samandar Ka Beta Novel By M.A Rahat in PDF
You can read this novel online – or download All 3 Parts of Samandar Ka Beta Novel by M.A Rahat in pdf for offline reading. Please follow the below links to read online or download this book.
Please Note: The links below are only for viewing, educational, and research purposes. We urge you to please purchase the book to support the publisher and the writer.