Devta (دیوتا) is the longest and arguably most-read novel in the Urdu language. This majestic tale got published in Suspense Digest for two generations, and over time, its readership kept growing steadily rather than declining.
The first installment of the novel got published in February 1977 – after being published in installments for decades, it was finally divided into fifty-six volumes and presented in book form.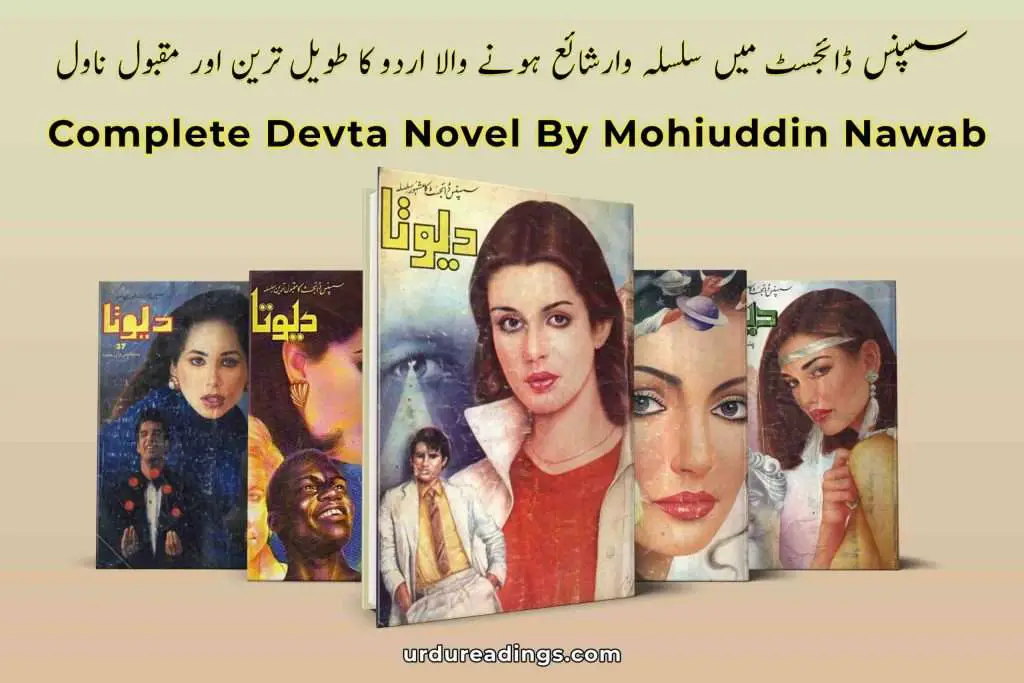 The credit for writing this lengthiest fascinating story goes to Mohiuddin Nawab (محی الدین نواب). He wrote this novel in a very uncomplicated language without using intricate words. The events of the story are very enchanting and captivating. The writer's grip on the plot and character is visible, and every character of the story is unique in its own way.
Related Book:
Tawan By Tahir Javed Mughal

The main character of the Devta novel is Farhad Ali Taimoor (فرہاد علی تیمور)۔ He has the ability to peek into people's minds, which he uses as his greatest weapon. He reads people's thoughts and fights against the evils of society and the enemies of his homeland. He faces politically and economically influential people who make every effort to hinder his path.
If you love reading action and thriller novels, you will love this novel.
Devta Novel Complete PDF Download
We have compiled a complete list of all 56 parts of the infamous Devta novel by Mohiuddin Nawab for you to download for offline reading. Please follow the list below to download the novel and enjoy reading one of the most popular Novel written in the Urdu language.
We hope that you would enjoy reading this novel. Don't forget to share it with your fellow book lovers. If you find a broken link, please let us know in the comments so that we can update it for you.