The book that we are discussing today is an immense literary achievement. Udaas Naslain (اداس نسلیں) novel by Abdullah Hussain (عبداللہ حسین) is a marvelous piece of writing in Urdu literature. It was published in 1963, and even after a half-century of its initial release, it has maintained its unique following of thoughtful Urdu readers.
Udaas Naslain Novel Summary and Review.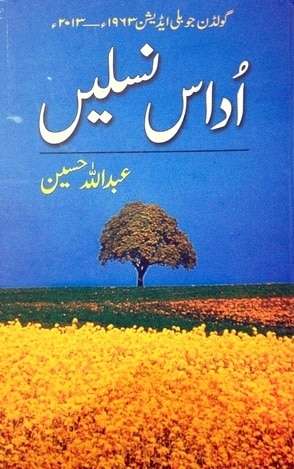 Abdullah Hussain is a name in Urdu literature that does not need any introduction. He is famous for his unique and distinctive style of writing. In addition to Udaas Naslain, he has written astonishing novels such as Nadar Log (نادار لوگ), Baagh (باگھ), and Qaid (قید). But the popularity of Udaas Naslain novel was unmatched by any other. In a sense, it goes against him because his other books did not get the attention they deserved. We see a similar situation with Banu Qudsia, who wrote excellent novels like Hasil e Ghaat (حاصل گھاٹ) and Amarbel (امر بیل). But these novels did not get the appreciation that her novel Raja Gidh (راجہ گدھ) got.
Coming back to Udaas Naslain novel, There is so much in this novel that to fully understand and appreciate it, it is necessary to read it with great attentiveness as well as from a larger perspective.
The story of this novel is divided into three major parts.
The British Raaj.
Indian Independence Movement.
Partition of India.
If you look at the plot and characters of Udaas Naslain novel, there are two Muslim families in the backdrop. One of them is Roshan Agha's family, a prominent landlord and has a lot of political influence. On the other side is Ayaz Baig and Niaz Baig's family, who cultivate in Roshanpur village.
Naeem is Niaz Baig's son, who returns to Roshanpur after completing his education in Kolkata. He begins farming with his father. Simultaneously, the First World War begins, and Naeem is forcibly recruited into the army and sent to fight on the front lines. From there, he goes to East Africa, where he loses one of his arms. When he returns from the war, he realizes how the government is abusing the people in Roshanpur. He joins the Congress party to deal with and change this situation. 
After that, there are many characters, twists, and turns in the story, including Naeem's marriage. And the story ends when they migrate to Pakistan, with India's partition and the formation of Pakistan.
This novel's timeline is the first part of the twentieth century, which is from 1910 to 1947. This novel gives us a deep understanding of India's history and the political and social conditions of that time. It is the story of a generation that is living a miserable and depressed life. In this novel, you learn about the First World War, the resistance of the Congress against the British rule, the role of the Muslim League, the famine in Bengal, and the oppression and abuse of human beings at the time of partition.
One thing to keep in mind is that this novel requires a lot of attention to understand. If you are the type of person who enjoys reading easy-going romance and action stories, this might not be the book for you. Only those who are interested in reading profound books will be able to enjoy this novel.
Finally, we believe that everyone should read this novel if they are interested in classic Urdu literature.
Download Udaas Naslain Novel PDF
You can read this novel online or download it for free in pdf format for offline reading. You can Download Udaas Naslain Novel by clicking the download button below.