Abdullah is a best-seller spiritual novel written by emerging Urdu novelist Hashim Nadeem. It is amongst the most read and appreciated novels in Urdu popular fiction. It got published by Jahangir Book Depot in 2009.
Abdullah Novel Summary and Review.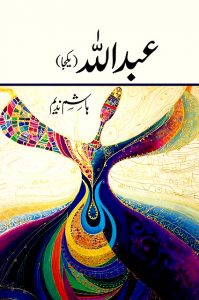 The main idea of the story is a journey of a man from Ishq-e-Majaazi to Ishq-e-Haqiqi. It is a novel that answers your questions about divinity. 
The main character of the story is a young man named Sahir, hailing from a wealthy family. He falls in love at first sight with an innocent and reserved girl named Zohra. The story starts as just another traditional romance novel. But, it is not just another romance novel where a girl and boy meets, falls in love, got married, and live happily ever after. In this novel, the author introduces you to a world where the concept of love is not limited to the union of two bodies. It is a world where love is about searching and reaching the soul of your beloved.
The writer takes us to the different phases of Shair's life, where he encounters various characters and adventures. A kind old saint named "Sultan Baba"  accompanied him at every step and taught him the difference between worldly love and divine love. Throughout their journey, we come across various mysterious tales and characters that force us to think in a new dimension.
Hashim Nadeem's writing style is so unpretentious that you feel like you are flowing with the story. At the end of each chapter, he creates such suspense that you are eager to know what will happen next. We find the same fluent style of writing in his acclaimed novel Khuda Aur Muhabbat.
Related: Khuda Aur Muhabbat Novel By Hashim Nadeem
In summary, you will read about love, spirituality, Sufism in this novel. Abdullah is not strictly a romantic novel, but it has all the hallmarks of a good romance novel. If you are fond of romance novels with a touch of religion, this is the novel for you.
Download Abdullah Novel In PDF
You can read this novel online, or download the complete Abdullah novel by Hashim Nadeem in pdf for offline reading. Please follow the below links to read online or download this book.
Please Note: The links below are only for viewing, educational, and research purposes. We urge you to please purchase the book to support the publisher and the writer.