Humsafar (ہم سفر) is a widely read social Urdu novel written by renowned novelist Farhat Ishtiaq. Its story is about the fractures in relationships and families caused by ego, selfishness, and misunderstandings. After being published in Monthly Khawateen Digest, it got published as a complete novel in 2008 by Ilm-o-Irfaan publishers.
This novel became exceedingly popular among the people. Given its popularity, HUM TV adapted the story to a TV-serial, which was one of the most successful tv serials.
Humsafar Novel By Farhat Ishtiaq Summary and Review.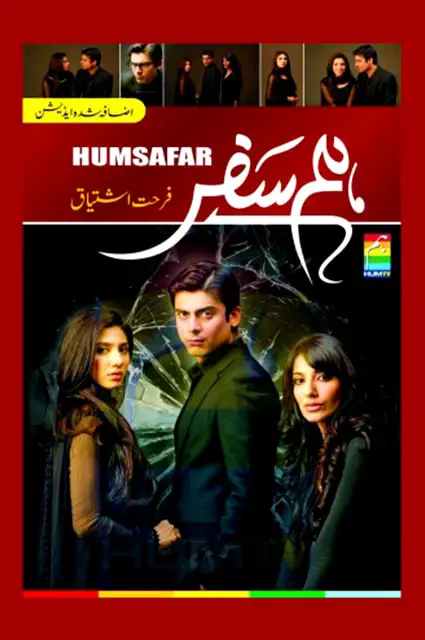 Farhat Ishtiaq is knowns for writing romantic, love triangle, and family tragedy novels. Especially, her book "Bin Roye Aansu" is known to almost every Urdu reader. She writes the stories in such a compelling manner that the reader can not put the book down until after completing it.
The story of the Humsafar novel revolves around Khird, Asher, and their daughter Harem. There are many ups and downs in their lives, but they face the circumstances with patience and endurance.
Khird, the leading lady of the story, is the only child of her parents. Her father passes away, and her mother is raising her single-handedly. Her life turns upside down when she learns that her mother is diagnosed with last-stage cancer. Worried about her daughter's future, the mother calls on her brother Baseerat Hussain.
Baseerat Hussain, a businessman who had forgotten everyone because of his business, becomes worried when he learns about his sister's health condition. He is also embarrassed because he had not asked his sister about her health for a long time. When the sister contacts him, he gets a chance to correct his mistake, and he decides to take responsibility for Khird by fixing her marriage to his son, Asher. Thus, Aher and Khid got married.
The story goes on; there comes a heap of twists and turns leading to the end of the book. We do not want to spoil the details, because it will make your reading experience dull and boring. So, we suggest you read the book to learn about their post-marriage life.
Download Humsafar Novel By Farhat Ishtiaq in PDF
You can read this novel online – or download the complete Hamsafar Novel by Farhat Ishtiaq in pdf for offline reading. Please follow the below links to read online or download this book.
Please Note: The links below are only for viewing, educational, and research purposes. We urge you to please purchase the book to support the publisher and the writer.