Tawaan Novel (تاوان) is amongst the most famous and widely read novels to be ever written in the Urdu language. It was first published in episodic form by a local digest named "Monthly Sargazasht" (ماہنامہ سرگزشت). Just after the publication of its initial episodes, it became so famous among the younger generation of Urdu readers. Since then, this epic tale has been entertaining Urdu readers around the globe.
Tawan Novel Summary and Review.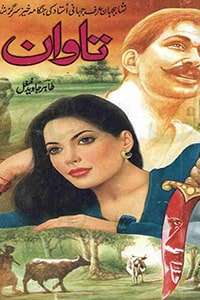 The story of the novel revolves around Shah Jahan, who is known as Ustaad Jahani. He became an orphan at a very younger age, and all he has left in this world was his sister. A few years later, when a rich man returned from the UAE, approached his sister with vicious attentions, and he could not defend her, He felt as if his world had turned upside down. He learned if he wants to live in this society, he has to know how to defend himself and his family. That is when Shah Jahan turns into Ustaad Jahani. He enters the world of crime and dominates it.
It is not a story from another world. Its roots are in the very same society we are breathing in. The characters are very people we see every day around us.
If you are looking to lighten up your mood with classic pulp fiction Urdu tale and you have got yourself a handsome amount of time, Tawan is the novel for you.
Download Complete Tawan Novel in PDF.
Tawaan Novel By Tahir Javed Mughal complete 17 parts are available for free in pdf format. It has To download it – please click on the download button below.
PART 01 PART 02 PART 03 PART 04 PART 05 PART 06 PART 07 PART 08 PART 09 PART 10 PART 11 PART 12 PART 13 PART 14 PART 15 PART 16 PART 17