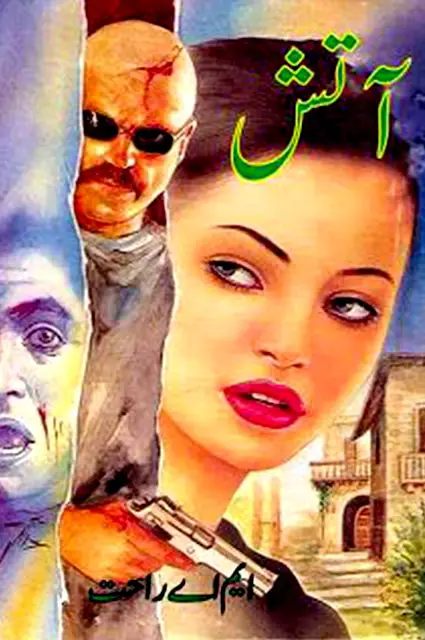 Aatish (آتش) is a famous action and adventure Urdu novel authored by famed Urdu novelist M.A Rahat. It first appeared in the "Naye Ufaq" digest in monthly episodes under the name "Darinda." Due to its immense popularity, the story was later published as a complete novel under the name "Aatish."
M.A Rahat is a renowned Urdu novelist who has authored hundreds of mystery, thriller, action, and adventure Urdu novels. His novels on supernatural creatures and forces are widely popular among Urdu readers. On this site, you can explore all Urdu Novels written by M.A Rahat.
Aatish Novel By M.A Rahat Summary.
It is the story of a young man named Dunn Ken, who inherits a shattered family. His elders squandered their wealth for the sake of luxury and did not think of their future generations at all. To regain his family's wealth and prestige, he walks into the world of crime.
He gains special crime and violence training from an underworld organization called "Secret Palace." After completing his training, he spread terror and destruction everywhere when he steps into the world of crime.
This was the historical period when Hitler's dream of ruling the world was waging war everywhere. In such a situation, Dunn Ken joined forces with an allied country against the Nazis and left behind great tales of bravery and courage.
If you love reading Action Packed Urdu Novels, Aatish by M.A Rahat is a perfect novel for you.
Download Aatish Novel By M.A Rahat in PDF
You can read this novel online – or download the complete Aatish Novel by M.A Rahat in pdf for offline reading. Please follow the below links to read online or download this book.
Please Note: The links below are only for viewing, educational, and research purposes. We urge you to please purchase the book to support the publisher and the writer.