Khuda Aur Muhabbat (خدا اور محبت) is a well-known Urdu novel authored by an emerging young writer Hashim Nadeem. It is amongst the widely read Urdu novels. In 2011, Geo TV adopted it for a drama serial, which was an instant megahit. k
Khuda Aur Muhabbat Novel Summary and Review.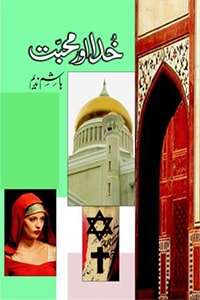 The leading character of the story is Hammad Amjad, belonging to a wealthy family. The story of the novel takes you through two different phases of Hammad's life. Both phases had been told parallel to each other.
Hammad's life while he was in Pakistan. This part of the story tells a tragic tale of love and loss.
Hammad's life while he was abroad for studies. This part of the story explains the relationship between Muslims and Jews and the reality of Jewish Holocaust ideology.
At first, Khuda Aur Muhabbat feels like a simple story where Hammad Amjad of a high profile family falls in love at first sight with Maulvi Sahib's daughter, who comes to the same house to teach the Quran and religion to the children. It creates a controversial Love-Vs-Religion situation. Both sides do not like this process; Therefore, Hammad is forced to leave home.
Related: Abdullah Novel By Hashim Nadeem
What happens after that? Does Hammad get to marry the love of his life? To know the answers, you need to read Khuda Aur Muhabbat Novel.
In the second phase of his life, Hammad is presented in London, seeking further education. There he lives with his childhood friend. This part of the story tells a new color of Jewish fundamentalism and bigotry.
Hashim Nadeem beautifully explained the real meaning of love of God and Love of Men. He also emphasized that love may happen again, but unrequited love never happens again.
All in all, Khuda Aur Muhabbat is a quality Romantic Urdu novel. This novel will make you feel happy, sad, and emotional at the same time.
If you want to read the novel, you need to download it. It is available in pdf format. To download it – please click on the download button below.
Please Note: The links below are only for viewing, educational, and research purposes. We urge you to please purchase the book to support the publisher and the writer.