Aik Mohabbat So Afsanay (ایک محبت سو افسانے) is a collection of short Urdu stories (افسانے) written by famous Urdu writer Ashfaq Ahmed. It is the very published collection of his short stories. The stories were later adapted into TV-Serial and aired on PTV.
Related: All books written by Ashfaq Ahmed.
Aik Mohabbat So Afsanay Book Summary.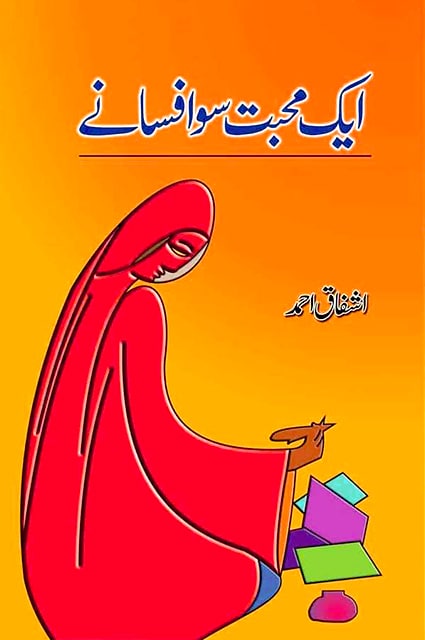 As mentioned above, the book is a compilation of Ashfaq Ahmed's short stories. The central theme of these stories is tragic and realistic Love and Devotion. Ashfaq Ahmed draws the reader's attention to the philosophical aspects of ordinary things around us that we usually don't pay attention to.
Each tale has different characters and themes – where one story is about the romance of a careless boy Ijaz; the other revolves around a small house's problems. You also read about the innocent questions of a kid named Faheem – and his grandmother's wise answers. The stories set in the village portray the simplicity and innocence of the villagers.
Below is the list of thirteen stories included in this book.
Tauba (توبہ)
Faheem (فہیم)
Raat Beet Rahi Hai (رات بیت رہی ہے)
Talash (تلاش)
Maskan (مسکن)
Sangdil (سنگدل)
Shab Khoon (شب خون)
Tota Kahani (توتا کہانی)
Ajeeb Badshah (عجیب بادشاہ)
Baba (بابا)
Panahain (پناہیں)
Ammi (امّی)
Bandra Bin Ki Kunj Gali Main (بندرا بن کی کنج گلی میں)
Each story will inspire and trigger you to impact your and other's life positively. We hope that you will enjoy reading this book. If you love reading short stories, you can explore our collection of Urdu Afsana Books.
Download Aik Mohabbat So Afsanay Book in PDF.
You can read this novel online – or download the complete Aik Mohabbat So Afsanay Book By Ashfaq Ahmed in pdf for offline reading. Please follow the below links to read online or download this book.