Azad Qaidi (آزاد قیدی) is a romantic and adventure short Urdu novel written by famous novelist Tahir Javed Mughal. It comprises the story of a young man struggling to get his love.
Azad Qaidi Novel Summary.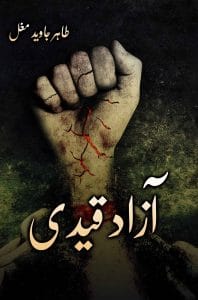 This story dates back to a time when history was young. It was not long before man settled by the river. When the roots of civilization were not very deep in the heart of the earth and people were bought and sold like horses. Among such people was a poor young man named Sikandar.
Sikandar was born in an unprivileged family. He learned to work hard From an early age and started working for a carpet dealer to make the ends meet. He falls in love with the girl named "Maah Ru" and gets engaged. But things take a turn for the worse when he realizes that he is on the verge of losing the love of his life.
Related: Tawan Complete Novel By Tahir Javed Mughal
What were the circumstances that caused his sweetheart to turn away from him, and what struggles did he make to get his beloved back? You have to read the novel to know this.
All in all, Azad Qaidi is a light mood romantic short novel that is packed with suspense and thrill.
Download Azad Qaidi Novelette in PDF
You can read this novel online, or download Aazaad Qaidi novel by Tahir Javed Mughal in pdf for offline reading. Please follow the below links to read online or download this book.
Please Note: The links below are only for viewing, educational, and research purposes. We urge you to please purchase the book to support the publisher and the writer.