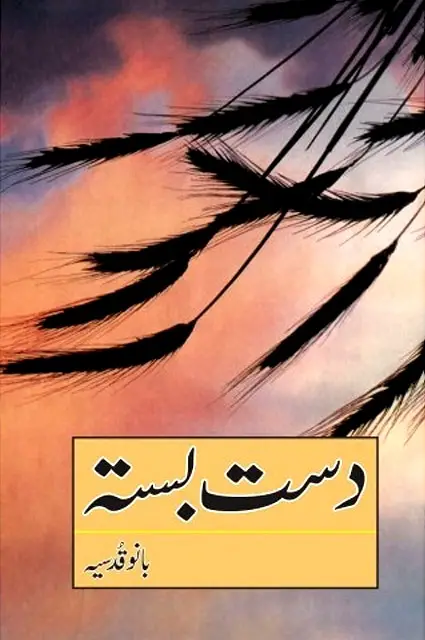 Dast Basta (دست بستہ) is a collection of short Urdu stories (افسانے) authored by famed Urdu novelist Bano Qudsia. These stories cover different themes such as; Pakistan's educational system, family dramas, child mistreatment, and other burning social issues.
Urdu readers are not unfamiliar with Bano Qudsia's name, as she is known as one of the most notable writers in Urdu literature. She writes on different social subjects. She is best known for Raja Gidh Novel, one of the landmark novels in Urdu literature. On this website, you can explore All books written by Bano Qudsia.
Dast Basta By Bano Qudsia Summary.
The Dast Basta book comprises twenty short Urdu stories of Bano Qudsia. Each following a different theme and characters. This book is more than a collection of simple tales; each tale illuminates social problems and offers solutions.
Below is a list of the stories in this book:
Tadbeer e Lutf (تدبیرِ لطف)
Aik Do Aur Teesra Woh (ایک دو اور تیسرا)
Mom Ka Putla (موم کا پُتلا)
Thanda Azaab (ٹھنڈا عذاب)
Dil-e-Yazdaan (دلِ یزداں)
Kharawein (کھڑاویں)
Aakhir Main Hi Kyun (آخر میں ہی کیوں)
Mufti G Khaima Saaz (مفتی جی خیمہ ساز)
Dahday Sang Pareet (ڈاڈھے سنگ پریت)
Asbaq e Salasa (اسباقِ ثلاثہ)
Shareek e Safar (شریکِ سفر)
Laal Gaind (لال گیند)
Mujra (مُجرا)
Dairy Farm (ڈیری فارم)
Mirza Be Takalluf Baig (مرزا بے تکلف بیگ)
Chaabi (چابی)
Hazar Paya (ہزار پایہ)
Iltijaa (التجا)
Shukrana (شکرانہ)
Tajdeed e Wafa (تجدیدِ وفا
Mom Ka Putla, Mujra, and Tadbeer e Luft are exceptional stories, but that does not mean the other stories are inferior; all are equally brilliant. We are positive that you will enjoy reading these short stories of Bano Qudsia.
Download Dast Basta Book By Bano Qudsia in PDF.
You can read the book online – or download free the complete Dast e Basta Book by Bano Qudsia in pdf for offline reading. Please follow the below links to read online or download this book.