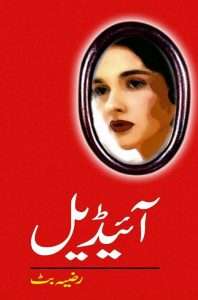 Ideal is a collection of short stories (Afsanay/افسانے) authored by famous Urdu novelist Razia Butt. It got published by Sang e Meel publications in 2009.
This book is no less than a gift for the fans of Razia Butt Sahiba as it contains her best and rare short stories. These are the stories on which she may have wanted to write a complete novel, but she could not write due to lack of time. Every story in this book is a complete tale in itself and its characters are as alive as her novels.
It comprises 23 short stories written on different topics. Each story has its own set of different characters. These topics include romance, Social issues, humor, and so on. The following short stories by Razia Butt are comprised in this book:
Mera Kya Qasoor (میرا کیا قصور)
Bhai Jaan (بھائی جان)
Daakiya (ڈاکیہ)
Akela (اکیلا)
Ideal (آئیڈیل)
Pyaar (پیار)
Dushman (دشمن)
Idara Khidmat e Khalq (ادارہ خدمت خلق)
Daad Ya Bedaad (داد یا بے داد)
Sailaab (سیلاب)
Veeranay Mein Bahar (ویرانے میں بہار)
Parkh (پرکھ)
Ya Kuch Aur (یا کچھ اور)
Khali Goud (خالی گود)
Baday Ghar Ki (بڑے گھر کی)
Mamoon (ماموں)
Zard Chehray (زرد چہرے)
Gul Parwashay (گل پروشے)
Faraib (فریب)
Ghair Mutwakkay (غیر متوقع)
Koi Baat Hi Nahi (کوئی بات نہیں)
La Ilaaj (لا علاج)
Aakhri Goli (آخری گولی)
Ideal Book By Razia Butt Download in PDF
You can read this book online, or download free Ideal By Razia Butt in pdf for offline reading. Please follow the below links to read online or download this book.
Please Note: The links below are only for viewing, educational, and research purposes. We urge you to please purchase the book to support the publisher and the writer.