Bin Roye Ansoo (بن روئے آنسو) is a social romantic Urdu novel written by famed Urdu novelist Farhat Ishtiaq. After being published in khawateen digests via monthly episodes, Ilm-o-Irfaan publishers published it in a book form. The novel became immensely popular and was read all over the country. Given its popularity, the story was adapted to the big screen and released under the name "Bin Roye" in 2015.
Most of the current writers in Pakistan are those who gained fame through writing novels for different Digests. Umairah Ahmed, Nimrah Ahmed, and many more such names are there as examples. One of them is Farhat Ishtiaq، who started her creative journey with Urdu Digest and reached the heights of fame. She has written several novels, half of which got adapted and released as TV dramas on different Pakistani TV Channels.
Bin Roye Ansoo Novel Summary and Review.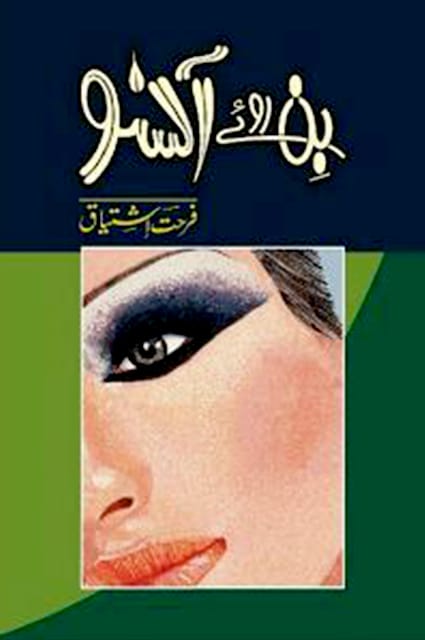 Coming to the story and characters of Bin Roye Aanso, it is a social romance story that revolves around three main characters, Irtizaa, Sabaa, and Saman.
Saba is the apple of the eyes of her parents, whose wishes got fulfilled spontaneously. She loves her childhood friend and cousin Irtzaa and is convinced that he loves her back as much as she does.
On the other hand, Irtzaa goes to America for his business, where he falls in love with his uncle's foster daughter Saman. Saba, a girl who can't even imagine that she wants something and can't get it, feels betrayed and insecure. Now the story progresses as a love triangle between the three. It reflects love, hate, rivalry, and other extreme human emotions.
Related: Humsafar Novel By Farhat Ishtiaq
If we write more about it, there is a risk of spoiling critical incidents of the tale, and it will make your reading experience uninteresting and boring. Therefore, we request you to read the book to know about the end of their love triangle.
If you love reading romantic and social Urdu novels, you should read this novel. The story is captivating, and the element of curiosity remains till the end. We hope you will enjoy reading this novel.
Download Bin Roye Ansoo Novel By Farhat Ishtiaq in PDF
You can read this novel online – or download the complete Bin Roye Aansu (Novel) by Farhat Ishtiaq in pdf for offline reading. Please follow the below links to read online or download this book.
Please Note: The links below are only for viewing, educational, and research purposes. We urge you to please purchase the book to support the publisher and the writer.