Jadugar (جادوگر) is a mystery and thriller Urdu novel written by famed Urdu novelist M.A Rahat. It is the story of a man whose life changes overnight. The story captivates you in such a way that you won't be able to put the book down until after finishing it.
M.A Rahat is a renowned Urdu novelist who has authored hundreds of mystery, thriller, action, and adventure Urdu novels. His novels on supernatural creatures and unseen forces are widely popular among Urdu readers. On this site, you can explore all Urdu Novels written by M.A Rahat.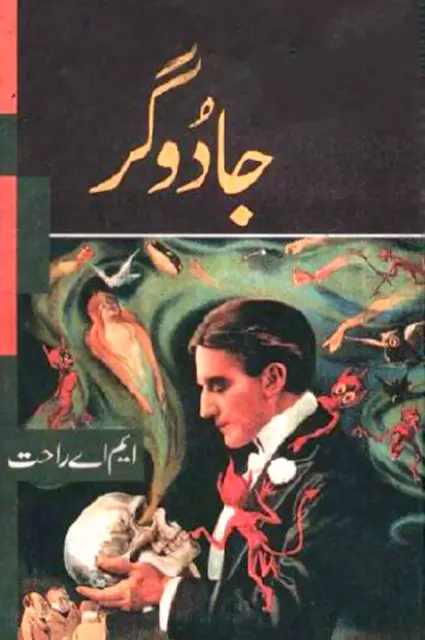 Jadugar Novel By M.A Rahat Summary.
The story of the novel revolves around an attractive young man, Ehtesham (احتشام), whose parents were killed in a traffic accident when he was seven years old. After his parents' death, his uncle (چچا) took over the responsibility of raising and educating him. His uncle's attitude towards her was very kind, but his aunt's attitude was awful and discouraging.
Ehtesham's uncle dies when he passes the BA exam. After his uncle's death, the aunt kicked him out of the house. Once on the streets, he had no place to live and no money to buy food, he started looking for a job. After giving interviews in different positions, he finally got a job as a waiter in a five-star hotel.
His life at work was going so well until one day, a girl in the recreation hall calls him by the name of "Dharma" instead of "Ehtesham." He explains that he is not Dharma, but she seemed pretty sure that she is not mistaken. The girl asks him to meet her in room 816 of the same hotel to talk in detail. He hesitates at first – but then finds the matter intriguing and decides to meet her to get to its bottom.
When he meets the girl, he is told that his name is Dharma, and he has lands and properties scattered in the state of Sonapuri. They persuade him to take the state with him and reclaim his property. After that, the story is entered into a whole new dimension where we are faced with twists and turns on every page.
If you want to read mystery and thriller novels filled with suspense, Jadugar by MA Rahat is the novel for you.
Download Jadugar Novel By M.A Rahat in PDF
You can read this novel online – or download the complete Jaadugar Novel by M.A Rahat in pdf for offline reading. Please follow the below links to read online or download this book.
Please Note: The links below are only for viewing, educational, and research purposes. We urge you to please purchase the book to support the publisher and the writer.