Kala Jadu (کالا جادو) is a supernatural and spooky novel written by famous Urdu novelist M.A Rahat. The story is written on the backdrop of black magic and unearthly powers. This prolonged tale Consists of more than five hundred pages and is one of the best and widely read works of M.A Rahat.
[adinserter block="2″]
M.A Rahat is a renowned Urdu novelist who has authored hundreds of mystery, thriller, action, and adventure Urdu novels. His novels on supernatural creatures and forces are widely popular among Urdu readers. On this site, you can explore All Urdu Novels written by M.A Rahat.
Kala Jaadu Novel By M.A Rahat Summary.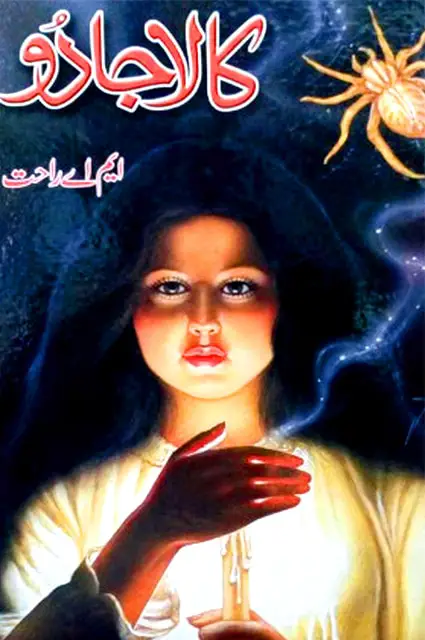 Black Magic is a familiar and recognized ritual practiced worldwide in different forms and with other names. From day one, man has found himself surrounded by dangers. He started living in societies, built homes, invented weapons to protect himself. To heal physical and mental illness, he developed medicines and different treatments. To protect himself from unseen creatures and ghosts, he created various rituals and rites. With time, he started using these rituals for purposes other than just defending himself.
Kala Jadu's central theme is also man using the black powers to gain something. It is a story of a young man who had this wish to become rich overnight by whatever means possible. Desperate to be wealthy, he falls into the trap of a false prophet who persuades him with black powers. He gave him a task and promised that he would obtain unimaginable wealth if he could perform it successfully.
He fails miserably, and thus, a war breaks out between him and that occultist. The occultist follows him with the help of unseen creatures and tries to kill him time after time. On the other hand, the young man tries to get rid of him and seeks help from different saints and people of true belief.
In summary, It is a mystic novel that warns you not to fall into the trap of evil people representing black magic. Be content with whatever is on your plate, and do not go for shortcuts to gain wealth and fame overnight. If you love reading horror and mystery Urdu novels, this is the perfect novel for you.
Download Kala Jaadu Novel By M.A Rahat in PDF
You can read this novel online – or download the complete Kala Jaadu Novel by M.A Rahat in pdf for offline reading. Please follow the below links to read online or download this book.
Please Note: The links below are only for viewing, educational, and research purposes. We urge you to please purchase the book to support the publisher and the writer.