Karnamay Nawab Tees Mar Khan Kay (کارنامے تیس مار خاں کے) is a collection of some humorous and funny short stories authored by an amusing writer Ibn e Insha. The books contain twelve brief stories that explore the strange events of a German boy's life who become the most popular in the whole world in a short time. The book achieved much fame after its first release in 1971.
Book Summary:
There are twelve (12) stories in this book. Each story has a different topic and moral that explain many actions, adventure, and strange moments in a humorous way.
The following stories are included in this book: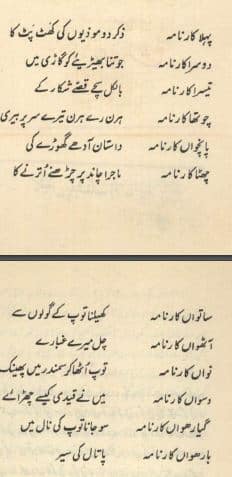 Zikar Do Mozion ki Khatt Patt Ka
Jotna Bhariye Ko Gari Mein
Bilukul Sachay Qissay Shikar Ke
Hiran Ray Hiran Ray Tere Sar Par Bery
Dastan Aadmi Ghore Ki
Majra Chand Par Charhne Utarne Ka
Khailna Toup Ke Golon Se
Chal Mere Gubare
Toup Utha Ke Samandar Mein Phaink Di
Main Ne Qaidi Kaise Churaye
So Jana Toup Ki Naal Mein
Patal Ki Sair
Every story is interesting and full of funny moments that compel a reader to laugh. All stories are almost 10 pages long which is most suitable for those readers who want an amazing story to read in a short time.
You might also want to these similar books: Tang Aamad by Aleem-Ul-Haq Haqi, Paheli by Tahir Javed Mughal, Aaeen-e-Wafa by Farhat Ishtiaq.
Download Karnamay Nawab Tees Mar Khan Kay Novel in PDF
You can read this novel online – or download the complete Karnamay Nawab Tees Mar Khan Kay novel in pdf for offline reading. Please follow the below links to read online or download this book.
Please Note: The links below are only for viewing, educational, and research purposes. We urge you to please purchase the book to support the publisher and the writer.