Imran series is a series of spy Urdu novels started by famous writer Ibn-e-Safi. After the passing of Ibn-e-Safi, Mazhar Kaleem successfully continued this widely loved series of jasoosi Urdu novels.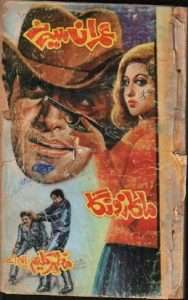 Maka Zonga (ماکا زونگا) is the very first addition to Imran series novels by Mazhar Kaleem MA. He wrote this novel under the name of "N Safi" – and introduced the new character named captain Shakeel. Later on, Mazhar Kaleem wrote numerous Imran series novels and introduced a lot of memorable characters. Some of his famous characters are Tiger, Juana, Saliha, and Rozi Rascal. A list of his authored novels can be seen here.
The Imran series novels tell an imaginary country's (Pakasia) secret service agency's missions. The head of this agency is a joyful yet deceiving boy named Ali Imran.
It takes a little time for new readers to get to know the characters and the theme of these novels. Once the characters and plots are in your understanding, these novels become addictive. Imran series novels are always entertaining and full of suspense. 
Maka Zonga, Just like any other novels in the Imran series – is loaded with top-notch suspense, action, and thrill. As you would expect, there are some fun and entertaining moments of Imran's humor.
Download Maka Zonga Imran Series By Mazhar Kaleem MA
You can either read it online or download it in pdf format for offline reading. To download Maka Zonga in pdf for free, please follow the links below.