Moazzan Ali (معظم علی) is an Urdu historical fiction novel authored by famous novelist Naseem Hijazi. It narrates the events of the Battle of Plassey and the establishment of the British Empire in Bengal.
Moazzam Ali Novel By Naseem Hijazi Summary and Review.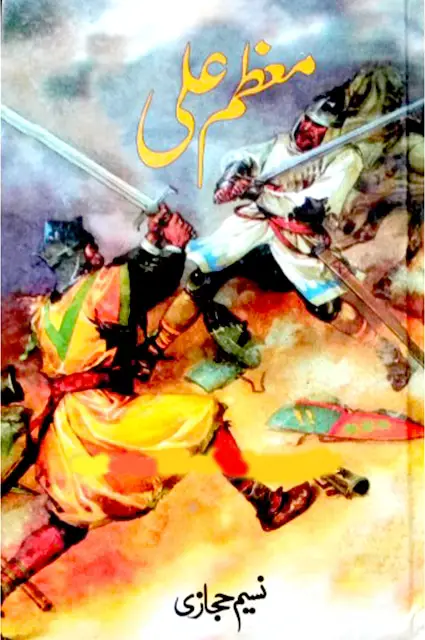 The story of this novel begins shortly before the battle of Plassey and continues till the domination of the East India Company in Bengal. Just like his other novels, Naseem Hijazi weaved history with a touch of fiction so seamlessly that the story captivates the reader right from the beginning, and the magic continues to the end.
The lead character of the story is a young man named Moazzam Ali. He joined forces with Nawab Siraj-ud-doula (سراج الدولہ), the last independent Nawab of Bengal, against the British East India company. However, they lost the battle on 23 June 1757 due to his own people's betrayal, which marked the beginning of British rule in Bengal. That paved the way for the British to rule almost all the Indian subcontinent later.
After the defeat in the Battle of Plassey, Moazzan Ali went to the kingdom of Mysore in southern India and served under Sultan Hyder Ali Khan.
This book gives us a glimpse of the Muslims' glorious past and the reasons for their fall. While it mentions those who sacrificed their lives for the homeland, it also exposes the disgusting faces of the traitors within. If you are looking forward to reading a historical fiction novel, Moazzam Ali by Naseem Hijazi is the novel for you.
Download Moazzam Ali Novel By Naseem Hijazi in PDF
You can read online or download the Complete Moazzam Ali novel by Naseem Hijazi in pdf for offline reading. Please follow the below links to read online or download this book.
Please Note: The links below are only for viewing, educational, and research purposes. We urge you to please purchase the book to support the publisher and the writer.