Raigzar e Tamanna (ریگ زار تمنا) is a social Urdu novel written by emerging Urdu novelist Maha Malik. After being published in the monthly "Shuaa Digest" for three and a half years, it finally got published as a complete novel recently. It is a lengthy, multi-track, and multi-topic novel that hosts a heap of characters.
Maha Malik is an emerging female Urdu novelist. She has written several superhit social and romantic Urdu novels for different monthly digests. Her stories usually describe the trials and tribulations of families inside the four walls of the house. The portrayal of human emotions and feelings in her stories is very close to reality. On This Website, you can explore All Novels Written By Maha Malik.
Raigzar e Tamanna Novel By Maha Malik Summary and Review.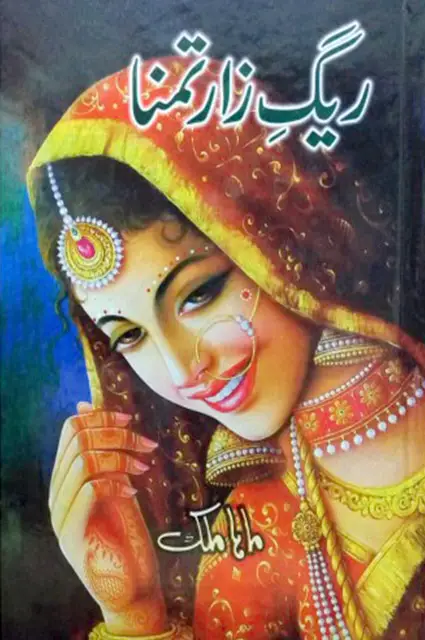 As mentioned above, it is a multi-track and multi-topic novel, so there are multiple stories told simultaneously in this book. Each of them has its own set of characters facing different problems in their lives. In this novel, you get to read about love, betrayal, social anxiety, family tragedies, selfishness, joint family problems, and a lot more.
The story starts with Rabia's introduction, who has no one else in the world except her grandmother. After the death of her grandmother, she gets exposed to the harsh realities of society.
The second story in the novel is related to Hayat House, where the families of two brothers and a sister live. The inhabitants of the house are lively people who enjoy every moment of life to the fullest.
The third story in the novel is an account of Dr. Shehla and her son Umer's life. Shehla lives with her parents after separating from her husband. This story demonstrates the problems of broken relationships and families.
In the fourth section of the novel, we are presented with misunderstandings arose due to Liza, between a married couple, Ikan and Aashir.
Then there is Munazza Begum's story, a Christian woman who converted to Islam to marry a Muslim. She wasn't well-received by the parents of the husband that leads to different post-marriage problems.
All the stories we mentioned above represent real problems people face in our society. There are various characters in this novel, so it is better to remember the names to avoid any confusion later.
In Summary, Raigzaar e Tamanna is a splendid social Urdu novel and amongst Maha Malik's best works. If you love reading family tragedies and joint family system Urdu novels, this is the perfect novel for you.
Download Raigzar e Tamanna Novel By Maha Malik in PDF
You can read this novel online – or download the complete Raigzar e Tamanna Novel by Maha Malik in pdf for offline reading. Please follow the below links to read online or download this book.
Please Note: The links below are only for viewing, educational, and research purposes. We urge you to please purchase the book to support the publisher and the writer.