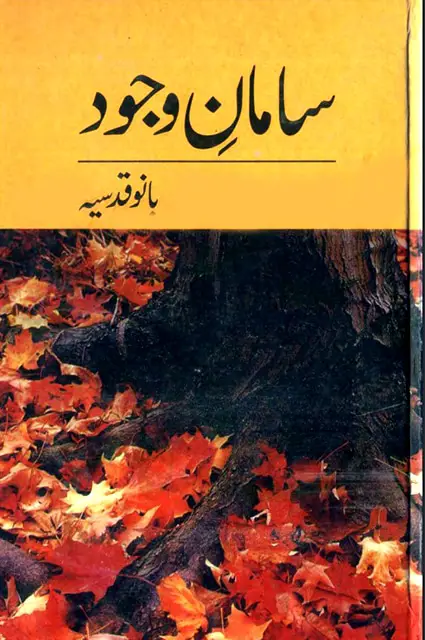 Samaan-e-Wajood (سامانِ وجود) is a collection of short Urdu stories (افسانے) authored by famed Urdu novelist Bano Qudsia. These stories cover several topics and teach us several moral and ethical values and lessons.
Urdu readers are not unfamiliar with Bano Qudsia's name, as she is known as one of the most notable writers in Urdu literature. She writes on different social subjects. She is best known for Raja Gidh Novel, one of the landmark novels in Urdu literature. On this website, you can explore All books written by Bano Qudsia.
Saman e Wajood Book Summary.
The Samaan e Wajood Book comprises thirteen short Urdu stories of Bano Qudsia. Each following a different theme and characters. This book goes far beyond a simple collection of fictional stories; it leaves you thinking and questioning yourself and re-examine your philosophy about life.
Below is a list of the stories in this book:
Ibn e Adam (ابنِ آدم)
Mansraaj Kabeen (منسراج کابین)
New World Order (نیو ورلڈ آرڈر)
Tangi e Dil (تنگی دل)
Shehar e Kafoor (شہرِ کافور)
Khakstri Boorha (خاکستری بوڑھا)
Mausam Sarma Main Neeli Chirrya Ki Maut (موسم سرما میں نیلی چڑیا کی موت)
Sadma e Awaz (صدمہ آواز)
Shauq Hathi Ka, Sawari Choohay Dil Ki (شوق ہاتھی کا، سواری چوہے دل کی)
Nafs e Na Rasaa (نفسِ نارسا)
Asbaaq Al Salasa (اسباقِ ثلاثہ)
Kaj Kalaah (کج کلاہ)
Shatranj Chaal (شطرنج چال)
Sadma-e-Awaz, Mausam Sarma Main Neeli Chirrya Ki Maut, and Shatranj Chaal are extraordinary stories, but that does not mean the other stories are inferior; they are all brilliant in different ways. We are sure that these short stories of Bano Qudsia will make a positive impact on your life.
Download Saman e Wajood Book By Bano Qudsia in PDF.
You can read the book online – or download free the complete Saman e Wajood Book by Bano Qudsia in pdf for offline reading. Please follow the below links to read online or download this book.