Tahir Javed Mughal started his writing career with a short romantic Novel named "Parastish (پرستش)." The novel was well-received by readers across the country, which gave him a confidence boost to write lengthy tales. As a result, we get to read his second novel Aandhi (آندھی). Initially, it appeared in the family magazine via monthly episodes and eventually got published in two volumes.
Related: Parastish Novel By Tahir Javed Mughal
Aandhi novel, just like his first novel, met the readers' expectations and was read enthusiastically nationwide. It stamped Tahir Javed Mughals' status as Pakistan's one of the top fiction writers.
Aandhi Novel Summary.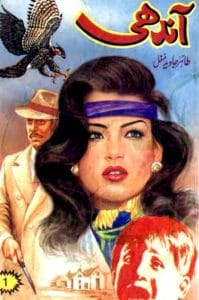 It is the story of a girl who was living a happy and quiet life, but all of a sudden, she was caught in unpleasant circumstances. At first, she left herself at the hands of circumstances, but over time, she realized that if he was to survive, she would have to face adversity. Therefore, an ordinary and delicate girl stands as an iron wall in the path of forces of evil. And why wouldn't she do that? After all, she was a mother with deep wounds on her soul.
Related: Tawan Novel By Tahir Javed Mughal
The mother-child relationship is at the heart of this story. And no matter how weak a woman might be, but a mother is never fragile when it comes to the life of her child. When she sees her kids in danger, she stands in the way of the pharaohs of the time, more powerful than steel and more steadfast than the Himalayas. That is exactly what we learn from this story.
The characters in this story are the very people of our society. You will feel them around you as you read the story. In it, you will find animalistic feudal lords, duplicitous politicians, cunning industrialists, and a few sympathetic human beings.
All in all, it is a story of our society and its brutal realities. And the courage to stand up to the forces of evil. If you are looking forward to reading a moral novel packed with thrill and action, Aandhi is the novel for you.
Download Aandhi Novel By Tahir Javed Mughal in PDF
You can read this novel online, or download the Complete Aandhi novel by Tahir Javed Mughal in pdf for offline reading. Please follow the below links to read online or download this book.