Abaqa (اباقہ) is a famous historical fiction Urdu novel written by renowned Pakistani author Tahir Javed Mughal. It is a lengthy novel divided into two-volumes and is one of the most famous novels of a Tahir Javed Mughal. This book was read and loved all over the country.
Abaqa Novel Summary.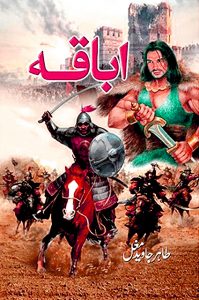 This is the story of the time when Genghis Khan (چنگیز خان) invaded the Central Asian countries and committed massacres. In those countries, there was a young man named Abaqa who is the protagonist of the story. Abaqa's family is also killed in the bloody attacks of Genghis Khan's army.
Related: Aandhi Novel By Tahir Javed Mughal
When his family was killed, he decided to avenge the murder of his family. To this end, he strengthens himself through rigorous training. When the training is over, he starts his journey of revenge. After that, there is a long tale that tells how he avenged his family's murder, and him joining hands with Jalal-Ud-Din (the dethroned price of Khawarzim) – and in the process falling in love with a prisoner woman named Marina.
In the Abaqa novel, you will read about various historical characters that other history books generally never outlined. In particular, a lot of life events of Jalal-ud-Din are narrated in this book. Apart from this, there are deep insights to read about the living conditions of Muslims during the reign of Genghis Khan.
Related: Tawaan Novel By Tahir Javed Mughal
In short, It is a journey of a young man to avenge the killing of his family. It is packed with thrill, adventure, action, and romance.
Download Abaqa Novel By Tahir Javed Mughal in Pdf
You can read this novel online, or download the complete two volumes of Abaqa novel by Tahir Javed Mughal in pdf for offline reading. Please follow the below links to read online or download this book.
Please Note: The links below are only for viewing, educational, and research purposes. We urge you to please purchase the book to support the publisher and the writer.