Bachpan ka December (بچپن کا دسمبر) is a masterpiece novel written by Hashim Nadeem. As you read this book, you will be lost in the thoughts of your childhood, and the beautiful nostalgic memories will start moving in front of your eyes like a movie.
Bachpan Ka December Novel Summary and Review.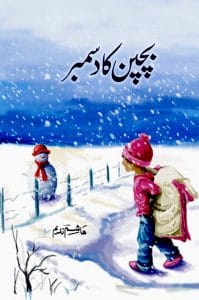 The novel covers a person's journey from childhood December to December of youth. In this journey, we are told his innocent observations as a child – and the coming of age events and experiences as he grows up.
Aadi, who belongs to a middle-class family, is the main character of this story. He is getting educated in an Urdu medium school. All he is interested in is a girl named "Wajjo" from a wealthy family in his neighborhood. She is studying in an English medium school. And eventually, this raw love turns into an everlasting bond of friendship.
Related: Khuda Aur Muhabbat Novel By Hashim Nadeem
As he grows up, many new things come into his life that he experiences for the first time. Like the first rain, the first time secretly watching a movie, the first time stealing, etc. The story goes on, and he gets admission to a cadet college under a government scholarship. And here, the beauty with which Hashim Nadeem describes life in Cadet College is commendable. If you've ever been to a cadet college, you'll love this part of the story.
As time goes on, many things come and go in the life of Aadi, but the one thing that remained constant with him all the way was his childhood friend, whom he called Wajjo.
In summary, Bachpan ka December is a nostalgic ride to childhood. You will be lost in the memories of your childhood as you start reading the story. Maybe you too will remember that Wajjo of your childhood. If you are looking forward to reading a novel about romance and friendship, this is the novel for you.
Download Bachpan Ka December Novel In PDF
You can read this novel online, or download the complete Bachpan Ka December novel by Hashim Nadeem in pdf for offline reading. Please follow the below links to read online or download this book.
Please Note: The links below are only for viewing, educational, and research purposes. We urge you to please purchase the book to support the publisher and the writer.