Darinda (درندہ) is a horror and mystic Urdu novel written by prolific Urdu novelist Tahir Javed Mughal. This story is about an eternal war between the forces of good and evil. Every page of the book is full of surprises and suspense, that once you start reading, it captivates you till the end.
Darinda Novel Summary.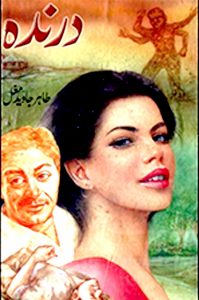 It is not a supernatural story, nor are there many action scenes. Instead, It is a story that is very close to reality, and its characters are the people we encounter every day.
Related: Aandhi Novel By Tahir Javed Mughal
This story will take you away from city life to the hidden corners of the villages that you may have only heard of but never seen. Whether men belong to the developed West or he belongs to the underprivileged villages of Asia, the eternal passion of good and evil has always been present in their heart. Along with that, he has always been afraid of unseen creatures of nature.
Related: Tawaan Novel By Tahir Javed Mughal
The main character of the story is also a man like those. He is a journalist by profession who moved to Lahore from Jalandhar soon after the partition of India. He has a mysterious and incredible personality, but at the same time, he has in his heart all the emotions that an ordinary man has. Among such feelings is the immortal spirit of love.
In a nutshell, Darinda novel is written on the backdrop of the eternal war between good and evil. If you are looking forward to reading a mystery and thriller novel, this is the novel for you.
Download Darinda Novel By Tahir Javed Mughal in Pdf
You can read this novel online, or download  Darinda novel by Tahir Javed Mughal in pdf for offline reading. Please follow the below links to read online or download this book.
Please Note: The links below are only for viewing, educational, and research purposes. We urge you to please purchase the book to support the publisher and the writer.