Jo Chale To Jaan Se Guzar Gaye (جو چلے تو جان سے گزر گئے) is a famous romantic Urdu novel written by female Urdu novelist Maha Malik. After being published in a monthly digest in 2007, it was later published as a complete novel. It gained rapid popularity and was read countrywide with zeal and zest. Considering its popularity, GEO TV adapted it into a TV Serial of the same name in 2011, and it was a massive success.
Maha Malik is an emerging female Urdu novelist. She has written several superhit social and romantic Urdu novels for different monthly digests. Her stories usually describe the trials and tribulations of families inside the four walls of the house. The portrayal of human emotions and feelings in her stories is very close to reality. "Raigzar e Tamanna" and "Jo Chale To Jaan Se Guzar Gye" are her most famous writings. On This Website, you can explore All Novels Written By Maha Malik.
Jo Chale To Jan Se Guzar Gaye Novel Summary.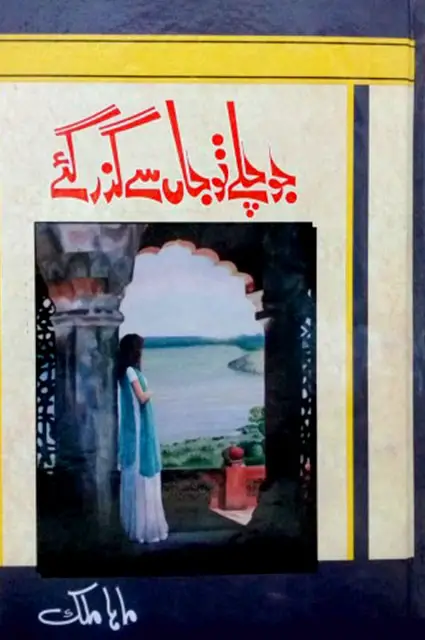 The novel's central theme is a triangle love story in which the main characters are Alim Shah, Zufi, and Aazir. Zufi is the central character of the story. She belongs to a middle-class family and is engaged to her cousin Aazir. They both are happy and satisfied with this relationship.
Everything is going smooth and easy until the appearance of Alim Shah in the story. Alim is a spoiled young man hailing from a wealthy family. As soon as he sees Zufi, he falls in love with her and decides to win her at any cost. Thus, a love triangle forms and the story moves forward.
After that, we get to read about the attempts that Alim made to win Zufi. He tries to convince Zufi, to which she blatantly declines. He then decides to win her with force and power.
What happens after that? Did she marry Alim Shah or Aazir? To know that, you need to read the book. We do not want to spoil it for you.
In All, It is a quality romantic novel filled with the emotions of selfishness, rivalry, love, and hatred. If you love reading romantic and social Urdu novels, Jo Chale To Jaan Se Guzar Gaye would be a good choice for you.
Download Jo Chale To Jaan Se Guzar Gye Novel in PDF
You can read this novel online – or download the complete Jo Chale To Jan Se Guzar Gaye Novel by Maha Malik in pdf for offline reading. Please follow the below links to read online or download this book.
Please Note: The links below are only for viewing, educational, and research purposes. We urge you to please purchase the book to support the publisher and the writer.