Khaak Aur Khoon (خاک اور خون) is a renowned historical fiction novel written by celebrated Urdu novelist Naseem Hijazi. It is one of the most-read books written in the backdrop of Muslims' migration from India to Pakistan in 1947. Naseem Hijazi migrated from India to Pakistan in 1947, and this book got published three years later in 1950.
Related: Pak India Migration Books
Khaak Aur Khoon By Naseem Hijazi Summary and Review.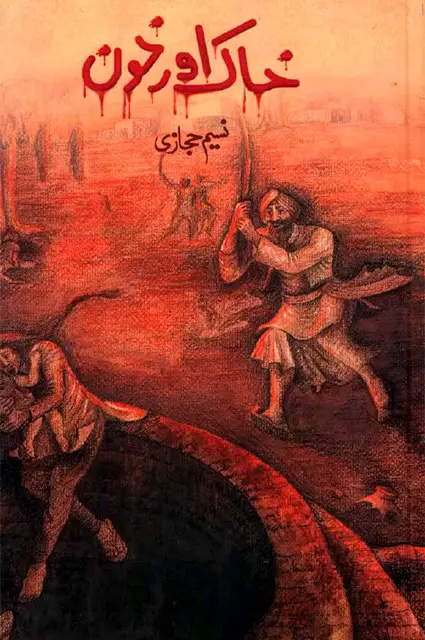 In June 1937, Lord Mountbatten announced that the district of Gurdaspur would be assigned to Pakistan. But Radcliffe, the head of the Boundary Commission, conspired with Indian politicians like Nehru, tempered with the geographic boundaries and gave Gurdaspur to India.
As a result, It was inevitable for the Muslim population of Gurdaspur to migrate from India to Pakistan. Hence, they embarked on a migration journey; little did they know about the dangers, oppression, and barbarism that awaited them on their journey to the new homeland.
There are several books written in the backdrop of the Pak-Indo partition and migration. Each book tells a different story of the atrocities perpetrated by Hindus on Muslims. We read about the obstacles Muslims faced during the migration; their loved ones were brutally murdered; their belongings were looted; It means every effort was made to prevent Muslims from reaching Pakistan.
One of these books is Khaak Aur Khoon, which has a prominent place in this genre. This book feels different from other books because its author saw the story of migration with his own eyes. Hijazi has stated the events being truthful to reality and history.
In Summary, Khaak Aur Khoon is an account of the migration in 1947 from India to Pakistan. It makes the new generation learn about their ancestors' sacrifices to have a safe homeland like Pakistan. If you want to uncover the tragedies, betrayal of close friends, and aftermath of partition in 1947, you should read this book.
Download Khaak Aur Khoon Novel By Naseem Hijazi in PDF
You can read online or download the Complete Khaak Aur Khoon novel by Naseem Hijazi in pdf for offline reading. Please follow the below links to read online or download this book.
Please Note: The links below are only for viewing, educational, and research purposes. We urge you to please purchase the book to support the publisher and the writer.