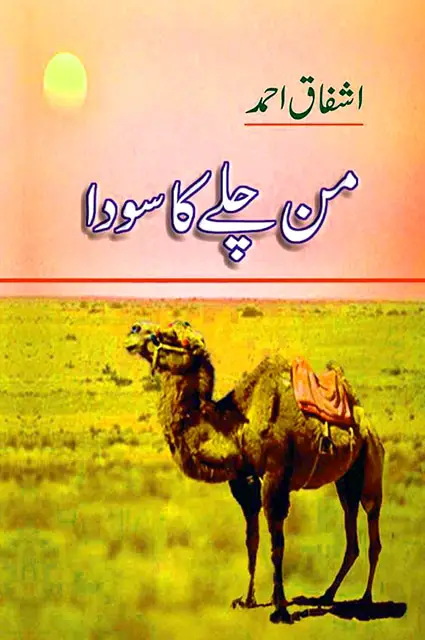 Mann Chalay Ka Sauda (مَن چلے کا سودا) is a spiritual drama written by Ashfaq Ahmed. It is one of Urdu literature's most influential works that received praise from both the critics and the readers. The drama was telecasted on Pakistan Television in 13 episodes. You can watch the drama serial here.
Ashfaq Ahmed's name does need any introduction to Urdu readers as he is one of the most influential and critically acclaimed Urdu writers. Ashfaq Ahmed was a very close friend to Mumtaz Mufti and Qudratullah Shahab, two big names in Urdu literature. He has written several prominent TV-Dramas, books, and short stories. His writing usually revolves around spirituality, Sufism, society, and the relationship between the Men and Allah Almighty. On this website, you can explore All books written by Ashfaq Ahmed.
Mann Chalay Ka Sauda Book Summary and Review.
Man Chalay Ka Sauda outlines the relation between Religion and Science. According to the author, Science and Religion are, in fact, the two sides of the same coin. He proves his theory through a character's spiritual and interesting journey.
Irshad, a man nearly fifty years old, is a successful businessman who has everything a man could wish for in his life. He has two sons and is separated from his wife. He has just that one urge to find God. He goes to different religious scholars and intellectuals but could not find satisfactory answers to what he was looking for.
The search for the answers goes on, and he eventually stumbled upon four different characters, A Cobbler, Postman, Shepherd, and a sweeper. They guided him through the right path and provided him the right answers with supporting examples and pieces of evidence. The conversations between Irshaad and these characters are the backbone of this novel. They are interesting, intriguing, informational, and inspirational.
Ashfaq Ahmed discusses spirituality, and at the same time, sheds light on the importance and relevance of science in religion. His arguments are instructive and enlightening that provoke the reader to think in a new dimension and change his ideas about Religion and Science. Masses could have benefited from it if the book had been translated to other languages, but It is a pity that it never got translated.
In Summary, Man Chalay Ka Sauda is a spiritual drama that explores the relation between Man, God, Religion, and Science. If you love reading on Sufism and spiritualism, this is a perfect read for you.
Download Mann Chalay Ka Sauda Book in PDF.
You can read this novel online – or download the complete Man Chalay Ka Sauda Book by Ashfaq Ahmed in pdf for offline reading. Please follow the below links to read online or download this book.