Mata e Jaan Hai Tu (متاعِ جان ہے تُو) is socio-romance Urdu novel written by famous novelist Farhat Ishtiaq. It is an everlasting love story of a young couple that introduces you to the beauties and depths of love.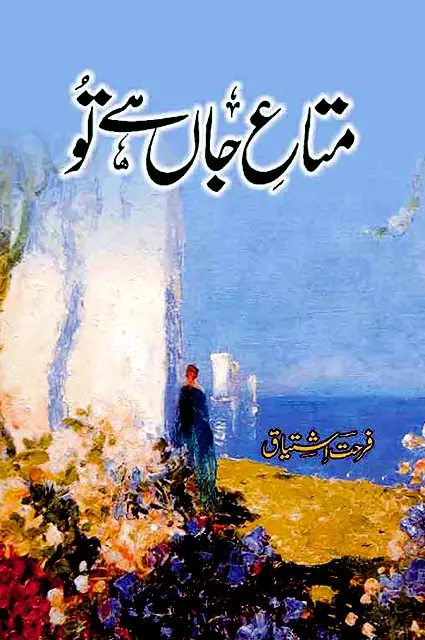 It was first published in 2010 and became immensely popular among Urdu readers countrywide. Considering its popularity, HUM TV adapted the story into a TV-Serial of the same name, which was an instant superhit.
Farhat Ishtiaq has stamped her name as a mature and legitimate Urdu novelist in a very short time. She has written several social and romantic Urdu novels, half of which are adapted to TV-Serials and Films. Her most famous writings include; Bin Roye Ansoo and Humsafar Novel.
Mata e Jaan Hai Tu Novel By Farhat Ishtiaq Summary and Review.
If we look at the story of the Mata-e-Jaan Novel, it revolves around two main characters, Ibaad and Hania. They study at Columbia University، and are deeply in love with each other. They get married against the wishes of the boy's father. As a result, Ibaad's father does not accept their relationship and cuts them off the family.
Every human being has a natural desire to be wished for and loved by others. We subconsciously want to live in a world of love and affection. This novel's story is such that you feel and experience love very closely when you read it. While reading the character of Ibad Aziz, you begin to feel love for him. Haniya and Ibad's love is so splendidly portrayed that one wonders if anyone can love someone so much.
A beautiful aspect of the novel is its stunning portrayal of the locations; New York City, Columbia University Campus, Coffee Shops, Parks, and Bookshops are pictured in such a beautiful and lively way that while reading, we find ourselves living and breathing with the novel's characters.
Haniya and Ibad's life was going very well, and suddenly there is a tragedy that takes the story to a whole new dimension. We do not want to spoil the story for you. That's why you need to read the novel to learn what happens in their post-martial life.
In all, Mata e Jaan Hai Tu is a story of a young couple and family tragedies. If you love reading socio-romance Urdu novels, you will love this book.
Download Mata e Jaan Hai Tu Novel By Farhat Ishtiaq in PDF
You can read this novel online – or download the complete Mata-e-Jaan Hai Tu Novel by Farhat Ishtiaq in pdf for offline reading. Please follow the below links to read online or download this book.
Please Note: The links below are only for viewing, educational, and research purposes. We urge you to please purchase the book to support the publisher and the writer.