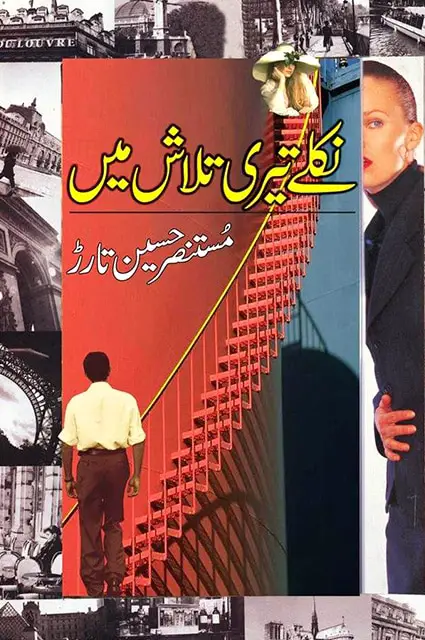 Niklay Teri Talash Main (نکلے تیری تلاش میں) is an Urdu travelogue written by famous writer Mustansar Hussain Tararr. If you love reading about traveling, you can not go wrong by picking this book as it takes you into several cities of Asia and Europe. It is Among Tararr's three classic travelogues – Nikle Teri Talash Main, Undlas Main Ajnabi, and Khana Badosh.
Niklay Teri Talash Main Travelogue Summary and Review.
Whenever it comes to travelogues in Urdu literature, the name of Tarar Sahib immediately comes to mind. His style of putting his observations into words is so unpretentious – and the power of imagination is so great that he paints the whole location and scene before the reader's eyes. His travelogues kindled the love for travel in the hearts of countless people.
Speaking of this book, it is one of Tarar's earlier and finest travelogues. The content of the book can be divided into two parts. The first part of the book is about his exploration of various Asian cities, while the second part is about his European adventures.
While traveling in Asia, he passes through Kabul, Ghazni, Barat, Mashhad, Tehran, Rome, and Istanbul. This part of the book is more interesting because it gives a brief but comprehensive account of these areas' Muslim history and the author's observations, feelings, and emotions.
The second part of the book is a chronicle of the author's visit to European cities (Venice, Alps, Frankfurt, Berlin, Copenhagen, Stockholm, Amsterdam, London, Paris). Most of the events are about his time spent on lakes and rivers, meeting friends and artists, and visiting various museums. He also recalls many European beauties who had a crush on him.
In summary, Niklay Teri Talash Main is a treat for Urdu travelogues lovers. The language is fluent, and it never leaves you bored. However, in the second part of the book, some chapters are stretched unnecessarily. But, it takes nothing away from what this book has to offer. Every travel lover should read it at least once.
Download Niklay Teri Talash Main Book in PDF
You can read this novel online – or download the Niklay Teri Talash Main travelogue by Mustansar Hussain Tararr in pdf for offline reading. Please follow the below links to read online or download this book.
Please Note: The links below are only for viewing, educational, and research purposes. We urge you to please purchase the book to support the publisher and the writer.