Yousuf Bin Tashfin (یوسف بن تاشفین) is a historical fiction Urdu novel written by famous Urdu novelist Naseem Hijazi. The story is written on the backdrop of Muslim's glorious past and revolves around a Brave Muslim Leader, Yousuf Bin Tashfin. It reflects the chapters from our history that we can look at and learn from to shape our future.
Yousuf bin Tashfeen Novel Summary and Review.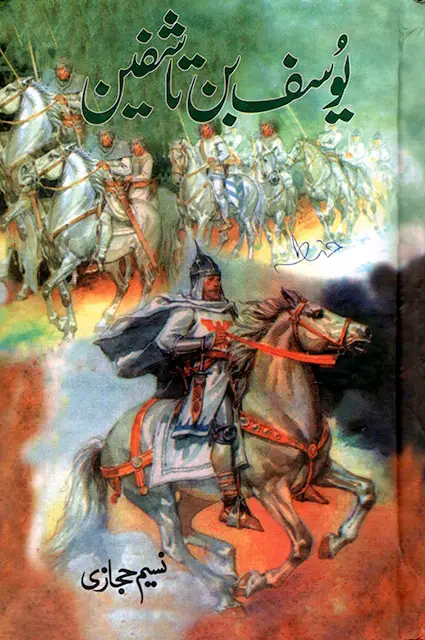 The rise and fall of nations in Andalusia's history are unparalleled in any other land in history. While in one chapter of Andalusian history, we find solace in seeing Muslims' rise, in another chapter, we feel sad to see their decline. The Muslims' weakness was that when they came to power, they became addicted to luxury and never learned from their past.
Yousaf Bin Tashfeen appears in the middle chapters of Andalusia's history. It was when all the Muslim rulers were fighting among themselves due to the conspiracies of Alfonso (VI), and the future of Andalusia was at stake. In such a situation, the leading Mujahideen and scholars of Andalusia sought the help of Yusuf bin Tashfeen, the Emir of Marabatin in Africa, who supported the sinking ship of Andalusia and thus began the era of Maratibin in Andalusia.
Related: Historical Fiction Urdu Novels
There has not been written enough about the historical character, Yousuf Bin Tashfeen, as compared to other famous Islamic heroes such as Muhammad bin Qasim, Sultan Mahmud of Ghazni, and Tipu Sultan. Naseem Hijazi deserves full credit for introducing us to characters from history that we may have been unaware of otherwise.
If you want to read about the Muslims' history in Spain, you should read this novel.
Download Yousuf bin Tashfeen Novel By Naseem Hijazi in PDF.
You can read this novel online – or download the complete Yousuf Bin Tashfeen novel by Naseem Hijazi in pdf for offline reading. Please follow the below links to read online or download this book.