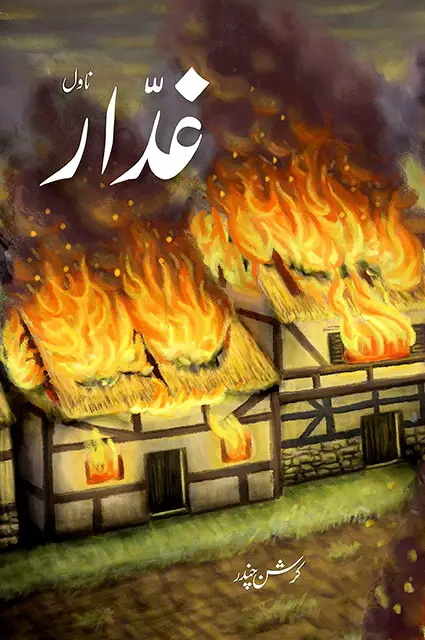 Ghaddar (غدار) is a distinguished Urdu novel written by famed writer Krishan Chander. Written on Partition of India and Pakistan's theme, this unique novel captures the pain of individuals separated from their homeland and families.
Summary and Review of Ghaddar Novel By Krishan Chandar.
Various writers have written on India's partition, and hundreds of novels have been written on the subject. Aag Ka Darya, Khaak Aur Khoon, Udaas Naslain are well-known books on the subject. In these novels, Muslims' troubles and sacrifices regarding migration are described in great detail. The focus of the speeches and writing of Pakistani novelists and speakers has been the difficulties Muslims faced during the migration.
Related: Pak India Migration Novels
The central idea of Krishan Chander's novel "Ghaddar" is also the partition of India and the Indo-Pak migration. The primary objective of writing this novel was to tell the people the truth that not only Muslims but also Sikhs and Hindus endured equal hardships during the migration. When there was a cycle of oppression and barbarism everywhere, whether it was Abdullah, Harnam Singh, or Ram Lal, no one was safe.
There is a lot of debate about why this novel was named Ghaddar (En: Traitor). To get an answer, it is crucial to understand the plot and backdrop of the story. The story is based on the post-Partition riots in Punjab. When these riots horrifically took place, they distorted humanity, and the values of life changed overnight. In such circumstances, if a Muslim denied killing someone and took a stand saying, what have the Hindus and Sikhs done to us? He was labeled as not to be a true Muslim but a traitor (Ghaddar). In other words, if someone did not kill people of other religions in this bloodshed, he was declared a traitor. The main character of the story was also such a traitor.
In all, Ghaddar is a novel that tells the events of the Indo-Pak migration from a different perspective. A point of view that unveils that not only Muslims but the people of other religions also suffered during the transition. If you have read other novels on India's partition, you should read this novel to learn some hidden truths about the pain and suffering of the people who migrated across-border in 1947.
Download Ghaddar Novel By Krishan Chander in PDF
You can read this novel online – or download the Ghaddaar novel by Krishan Chandar in pdf for offline reading. Please follow the below links to read online or download this book.
Please Note: The links below are only for viewing, educational, and research purposes. We urge you to please purchase the book to support the publisher and the writer.