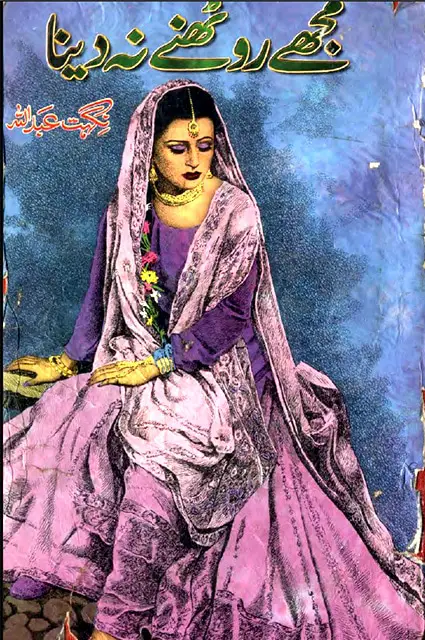 Mujhe Roothne Na Dena (مجھے روٹھنے نہ دینا) is a social Urdu novel written by female Urdu novelist Nighat Abdullah. It first appeared in a local monthly digest – and later got published as a hardcover book. Just after its initial publication, it received massive popularity among Urdu readers countrywide. Seeing its popularity, HUM TV adapted the story to a TV-Serial of the same name.
Nighat Abdullah is a prominent female Urdu novelist who has written several superhit novels. In her stories, she highlights different aspects of our society, its shortcomings, and their effect on our daily lives. Her most widely read and acclaimed novels are; Koi Lamha Gulab Ho, Mujhe Roothne Na Dena, Mere Khawab Lota Do, and Ek Dua Ne Bacha Liya.
Mujhe Roothne Na Dena Novel Summary.
It is the story of a traditional Pakistani family with typical cultural and moral values. The family consists of a mother, Nafeesa, and her three daughters, Sofia, Rabia, and Huma. All three of them are facing different trials and tribulations in their lives. Nafeesa's uncle has been sexually abusing her since childhood. She tries to convince her mother of that, but the mother never believed her.
Rabia, on the other hand, falls in love with a boy named Saqib. Nafeesa (The Mother) doest not approve of this relationship because she does not like the boy's family. Despite her mother's disapproval of this relation, they fled the house and ran away. Little did she knew that a disaster was awaiting, which would turn their life upside down.
To learn more about the story, you need to read the novel. We do not want to spoil the story for you. It is a captivating and riveting story that will keep you guessing about the ending. It sheds light on several social problems and offers multiple moral lessons.
If you are a fan of social Urdu novels, Mujhe Roothne Na Dena is a good choice for you.
Download Mujhe Roothne Na Dena Novel in PDF
You can read this novel online – or download the complete Mujhe Roothne Na Dena Novel by Nighat Abdullah in pdf for offline reading. Please follow the below links to read online or download this book.