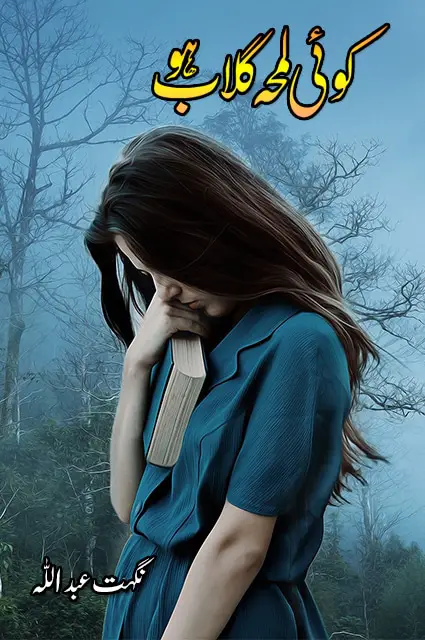 Koi Lamha Gulab Ho (کوئی لمحہ گلاب ہو) is a popular social and romantic Urdu novel written by distinguished Pakistani Urdu novelist Nighat Abdullah. It is a family drama story with social and moral lessons. It first appeared in a local monthly digest – and later got published as a hardcover book containing more than eight hundred pages.
Nighat Abdullah is a prominent female Urdu novelist who has written several superhit novels. In her stories, she highlights different aspects of our society, its shortcomings, and their effect on our daily lives. Her most widely read and acclaimed novels are; Dil Phoolon Ki Basti, Mujhe Roothne Na Dena, Mere Khawab Lota Do, and Aik Dua Ne Bacha Liya.
Koi Lamha Gulab Ho Novel Summary.
The novel's central theme is social and lifestyle differences between upper and lower-class people. It demonstrates how the upper class lives a lavish life and how miserably lower-class people make it through a day.
The story's main character is a brave and strong girl named Faiqa, hailing from a lower-class family. She works her heart out in an office to earn the bread and butter for her family. Her life is going on, struggling for financial stability. And one day, her employer's young son falls in love with her at first sight. After that, her life takes a drastic turn.
We do not want to spoil the story for you with more details, so you have to read the novel to learn more about what happened to her life after that. It is a romantic and tragic story with a lot of twists and turns. All the characters are strong and lovable. Other main characters of the story are Azam, Rabia, and Begum Afandi.
If you love reading social and romantic Urdu novels with moral lessons, this is the novel for you.
Download Koi Lamha Gulab Ho Novel in PDF.
You can read this novel online – or download the complete Koi Lamha Gulab Ho Novel by Nighat Abdullah in pdf for offline reading. Please follow the below links to read online or download this book.