Qila Jangi (قلعہ جنگی) is a famed Urdu novel based on the true events that happened during the Afghanistan War. It is written by celebrated Urdu novelist Mustansar Hussain Tarar and got published in 2000 by Sang-e-Meel Publications.
Mustansir Hussain Tarar is one of the distinguished contemporary Urdu writers who wrote on various genres of literature. Although his fame is due to his everlasting travelogues (Undlas Main Ajnabi, Nikle Teri Talash Main), this does not mean that his imagination is limited to writing travel journeys. He has also given exceptional novels to Urdu literature such as Bahao, Qarbat e Marg Main Muhabbat, Khas o Khashak Zamanay, and Raakh.
Qila Jangi Novel Summary and Review.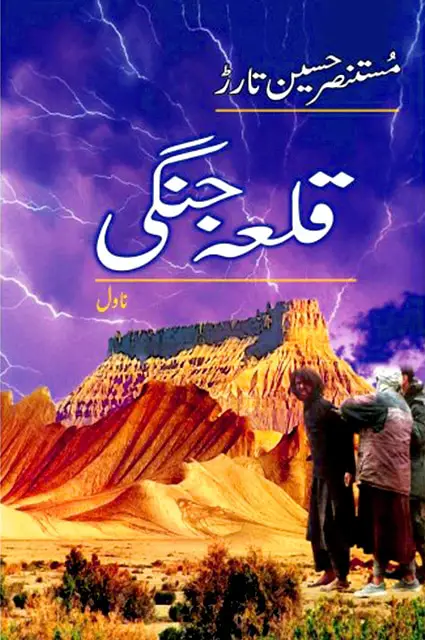 The story begins when rival (Pakistani, Afghan, Arab, and Chechen) fighters surrendered in front of the Northern Alliance's notorious General Rashid Dostum in Kunduz. These prisoners with their hands tied behind their backs were brought to Qila Jangi. Some prisoners were still hiding their weapons in their enclosed trousers.
When the interrogation began, one of them, to escape the embarrassment of being questioned, threw some hand grenades. At the same time, a young man fired a Kalashnikov Burst, which he had hidden in his shirt. As a result, a revolt broke out which lasted for seven days and nights, and hundreds of people were killed.
When the uprising of a few hundred rebellious defiant could not be crushed, General Rashid Dostum called on the coalition forces. They came and dropped a few daisies (bombs) and spread the death veil in the Qila Jangi.
Related: Mustansar Hussain Tararr All Books
Mustansir Hussain Tarar's novel "Qala-e-Jangi" has a lot of characters, but most notable were seven friends, one of whom was a Pakistani, a new Muslim American, an Arab, Afghan, a Chechen, and a British. When devastation was all around, they took refuge in the basement of the fort, where they survived miserably due to severe injuries, hunger, and thirst. There is also a detailed recital of them eating a dead horse out of hunger.
In Summary, It is a story about the horrors of war. The writer depicts the consequences and impact of war. At times, the gore and terror are too hard to digest, but it is also very hard to put the book down because it just captivates you and makes you curious about the ending.
Download Qila Jangi Novel in PDF
You can read this novel online – or download the Qila Jangi novel by Mustansar Hussain Tararr in pdf for offline reading. Please follow the below links to read online or download this book.
Please Note: The links below are only for viewing, educational, and research purposes. We urge you to please purchase the book to support the publisher and the writer.