Zard Mausam (زرد موسم) is a social Urdu novel written by emerging female Urdu novelist Rahat Jabeen. It first appeared in a local monthly digest and later got published as a complete novel. Hum TV Pursued the author for the rights to adapt the story into a tv-serial for two years. They eventually convinced the author, and we got to watch the TV drama serial of the same name.
Rahat Jabeen is an emerging female Urdu novelist. She has written several superhit social and romantic Urdu novels for different monthly digests. Her stories usually describe the trials and tribulations of families inside the four walls of the house. The portrayal of human emotions and feelings in her stories is very close to reality. "Titli Jesa Pyar" and "Zard Mausam" are her most famous writings. On This Website, you can explore All Novels Written By Rahat Jabeen.
Zard Mausam Novel Summary.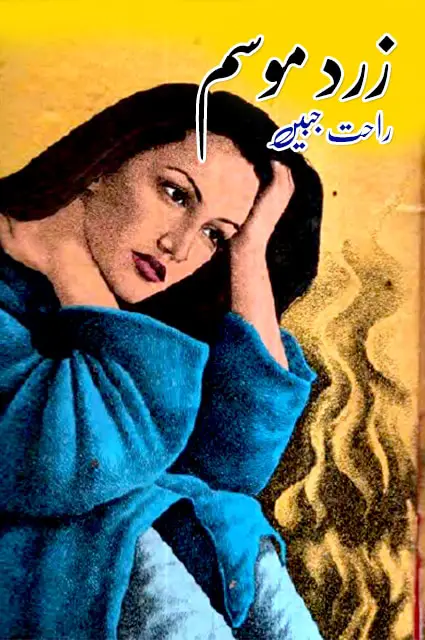 The novel's story follows the life of a girl, Aiman. She is a quarrelsome and naughty girl raised with great attention and care. Her birth mother is dead, and she lives with her stepmother and three half-siblings. Everything is going smooth and comfortable until after her father goes abroad for work due to financial unrest. As soon as her father left, the stepmother started torturing and abusing her.
In the meantime, Tahir appears in the story as a tutor. He is hired to teach and educate Aiman and her half-siblings. He notices the mother's unpleasant behavior towards Aiman and shows sympathy to her. With time, the sympathy develops into something much more that changes Aiman's life in an imaginable way.
The story progresses, and there come numerous twists and turns that we do not want to spoil for you. It's better to read the book to learn more about what happened to Aiman's life after that. The author keeps the mystery until the last page, and you would not be able to guess what is coming next.
In summary, Zard Mausam is a story of our society that describes human emotions such as love, hatred, greed, and selfishness. It also sheds light on the problems after forced marriages and broken relationships. If you love reading Social and Romantic Urdu novels, this is the perfect choice for you.
Download Zard Mausam Novel in Pdf.
You can download the complete Zard Mausam novel by Rahat Jabeen in pdf for offline reading. Please follow the below links to read online or download this book.
Please Note: The links below are only for viewing, educational, and research purposes. We urge you to please purchase the book to support the publisher and the writer.