Badla Mere Humraz Ka Rang (بدلا میرے ہم راز کا رنگ) is a collection of short Urdu stories written by renowned female novelist Farhat Ishtiaq. The central theme of all the stories is win and loss, dreams and desires, selfishness, and stubbornness of people in the way of love.
Book Summary:
Badla Mere Humraz ka Rang comprises thirteen (13) short stories about love, tragedy, and loss. Each story focuses on a different topic and number of characters. You will feel a personal connection to each story, and it will warm your heart while also leaving you with a deep sense of sadness and grief at the end.
The book contains the following list of stories: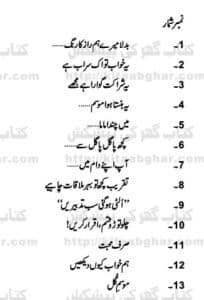 Badla Mere Humraz Ka Rang
Yeh Khawab Toh Ek Sarab Hai
Yeh Shierakat Gawara Hai Mujhe
Yeh Hansata Hua Mausam
Main Chanda Mama
Kuch Pagal Pagal Se
Ap Apne Daam Mein
Taqreeb Kuch Toh Behar Mulaqat Chahiye
Ulti Hogai Sab Tadbeerein
Chalo Toro Qasam Iqrar Karein
Sirf Mohabbat
Hum Khawab Kyon Daikhein
Mausam-e-Gul
It's difficult to say which of these is better because they're all excellent in different ways. This book can be read in one sitting. If you enjoy short Urdu stories, this is the book for you.
Farhat Ishtiaq is a prominent and accomplished novelist of Urdu literature. Half of her writings are adapted into TV Dramas and movies by major Pakistani TV channels. She has written multiple popular novels such as; Humsafar, Bin Roye Ansoo, and Mata-e-Jaan Hai Tu.
You might also want to these similar books: Zameer Ke Aseer by Aleem-Ul-Haq Haqi, Titli Ki Uraan by Aliya Bukhari, May Day by Nighat Seema.
Download Badla Mere Humraz Ka Rang Book in PDF
You can read the book online – or download free the complete Badla Mere Humraz Ka Rang Book in pdf for offline reading. Please follow the below links to read online or download this book.
Please Note: The links below are only for viewing, educational, and research purposes. We urge you to please purchase the book to support the publisher and the writer.