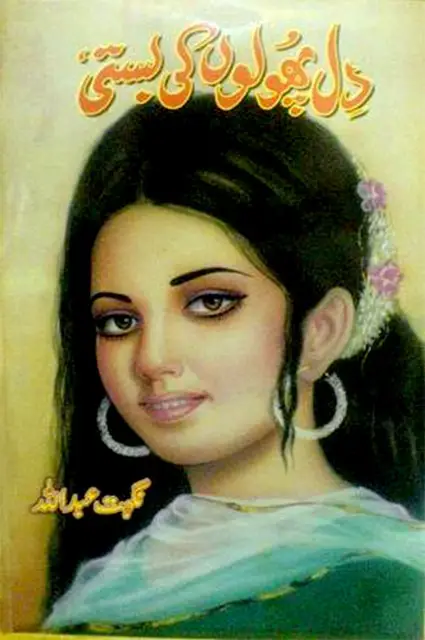 Dil Phoolon Ki Basti (دِل پھولوں کی بستی) is a famous social and romantic Urdu novel written by Nighat Abdullah. It first appeared in a local monthly digest – and later got published as a complete hardcover book in 2000. It is amongst Nighat Abdullah's most popular and acclaimed works.
Nighat Abdullah is a prominent female Urdu novelist who has written several superhit novels. In her stories, she highlights different aspects of our society, its shortcomings, and their effect on our daily lives. Her most widely read and acclaimed novels are; Koi Lamha Gulab Ho, Mujhe Roothne Na Dena, Mere Khawab Lota Do, and Ek Dua Ne Bacha Liya.
Dil Pholon Ki Basti Novel Summary.
Dil Phoolon Ki Basti's story revolves around the life of Dr. Asiya. She is married to Sikandar and has twin daughters. They live in a Haveli (حویلی) bound with traditional social values and ethics. Her life takes a turn for the worst when his husband decides to choose his haveli and ego over his wife and daughters. He separates ways with them, saying that he helpless in front of cultural traditions.
After that, we get to read about the struggles of Asiya in raising her daughters – and problems due to broken relationships. The story presents a lot of human emotions, behaviors, and sentiments.
If you love reading social Urdu novels with moral lessons, Dil Phoolon Ki Basti is the novel for you. We are sure you will enjoy reading it.
Download Dil Phoolon Ki Basti Novel in PDF.
You can read this novel online – or download the complete Dil Phoolon Ki Basti Novel by Nighat Abdullah in pdf for offline reading. Please follow the below links to read online or download this book.