Neeli Ragein (نیلی رگیں) is a collection of Urdu Dramas authored by Saadat Hassan Manto. It contains eighteen (18) stories that portray the realities of life and social issues faced by people in our current community. It was published in 1886 and then aired on all Indian radio stations.
 Book Summary:
The book comprises eighteen (18) short moral Urdu stories (Dramas) composed by Manto. Each of them has a different subject and set of characters. It explains the multiple issues of our society.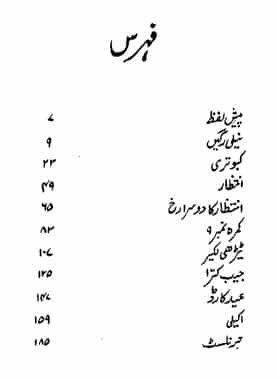 The stories' titles are as follows:
Neeli Ragein
Kabootri
Intzaar
Intzaar Ka Dusra Rukh
Kamra Number 9
Tedhi Lakeer
Jaib Katra
Eid Card
Akeli
Journalist
Sardhi
Naqsh Faryadi
Bemaar
Jurm Aur Saza
Kya Ma Andar Aa Skta Hun
Tuhfa
Saleema
Hatak
Manto is amongst the most widely read and controversial Urdu language storytellers. He is outspoken and straightforward – and uncovers the harsh and bitter realities of society. Most of his stories are woven around sexuality and lust. Thanda Gosht is a perfect example of that. He faced severe criticism from religious circles of society for his writings. Even, a formal lawsuit was filed against Manto for writing a book, Thanda Gosht. You must read Saadat Hassan Manto's All Books.
You might also want to these similar books: Chup by Bushra Rehman, Ganjay Farishtay by Saadat Hassan Manto, Nasheeb by Abdullah Hussain.
Download Neeli Ragein (Dramas) in PDF
You can read this novel online – or download the complete Aik Mard (Dramas) book in pdf for offline reading. Please follow the below links to read online or download this book.
Please Note: The links below are only for viewing, educational, and research purposes. We urge you to please purchase the book to support the publisher and the writer.